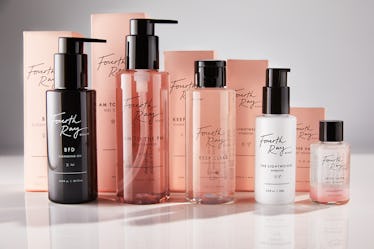 ColourPop's New Sister Brand Is A Skincare Line Under $20 & It's So Effing Pretty
Courtesy of Fourth Ray Beauty
When I was in college, I was broke as a joke, but a skincare enthusiast nonetheless. I learned a few things from DIYing my own mud masks, mixing my own toners and concocting my own cleansers; however, I still couldn't help but lust over beautifully packaged products. All I wanted was a carefully curated skin-care set that also looked pretty in my bathroom, all available in a price range that fit my champagne taste on a beer budget. If only Fourth Ray Beauty had been a thing when I was a poor, fresh-faced college student.
So, here's the deal with this gorgeous skincare line. Just like its big sister, ColourPop, Fourth Ray Beauty is a collection of high-quality products that are accessible by even my most impecunious college self. Even more, this line is totally good for you. According to a press release from the brand, "all Fourth Ray products are 100% cruelty free, vegan, free from gluten, parabens, phthalates, synthetic fragrances, and are made in the USA." The line also boasts products that are "dermatologist-tested and safe for all skin types." Sounds like a pretty good deal to me.
The range consists of 10 skincare items, from cleanser to spot treatment, with prices starting at $6. Scroll down for a peek at every item in the collection.
BFD Cleansing Oil ($14)
Formulated with antioxidants like camellia, juniper berry, and meadow foam, BFD Cleansing Oil melts away surface debris, removes makeup, dirt and pollution, without stripping natural moisture.
AM To The PM Gel Cleanser ($12)
Similar to the cleansing oil, the AM To The PM Gel Cleanser dissolves and washes away dirt and makeup without over drying or stripping the skin of natural hydration. Packed with lychee, Hawaiian ginger, lotus, and jojoba proteins, this cleanser leaves skin hydrated, even before you finish the rest of your skincare routine.
Keep Clear Clarifying Tonic ($10)
This concentrated non-drying toner removes surface impurities and exfoliates with ginseng, willow bark, papaya enzymes, and witch hazel.
The Lightweight Hydrator ($12)
Perfect for the beauty junkie who loves a lightweight face cream, this oil-free hydrator absorbs quickly without a greasy residue, and leaves skin soft, smooth, and primed for makeup. It's also formulated without dyes, harsh chemicals or fragrances, which makes it ideal for sensitive skin.
Later Hater Spot Treatment ($12)
Later Hater is a two-phase solution that targets spots with a blend of salicylic acid, sulfur, and calamine to provide relief without leaving your skin itchy, flaky and irritated. Apply directly onto spots before bed and wake up with clear skin by morning.
Rose Quartz Roller ($18)
Made from real rose quartz, this facial roller removes puffiness, improves blood circulation, promotes lymphatic drainage, improves skin elasticity, and relieves facial tension.
Scrunchies ($6)
Pull your hair back with these silk scrunchies before you wash your face, before bed, at the gym — whenever — without worrying about breakage.
Kitty Headbands ($6)
Hold your hair back while you get your skincare on — and look cute AF while you're doing it.
If you're itching to get your hands on this line, you won't have to wait too much longer! Fourth Ray Beauty launches on August 23 online at fourthraybeauty.com.