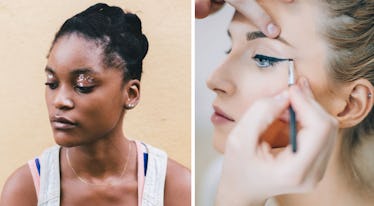 The Top 2018 Makeup Trends Worldwide Have Me So Close To Booking A Big Beauty Vacation
Jessica Sharmin/Stocksy, Studio Firma/Stocksy
Whenever I'm prepping for a trip, one of the first things I do is hit up Pinterest to see if there are any trends in particular I need to keep in mind when it comes time to pack my suitcase. I've pinned tons of Italian street style, Parisian beauty tips, and the like, and I've always found it intriguing to see how certain trends resonate with different groups of people worldwide. Now that Pinterest's 2018 Global Beauty Report has been released, I'm even more interested in checking out the top 2018 makeup trends around the world, and taking advice from beauty-lovers across the globe.
According to the report, the site currently boasts more than 8 billion pins and 207 million boards dedicated to hair, skin, makeup, and everything beauty-related. Since they have so many active pinners from all over the world, it's easy for them to collect information on what trends are popping up where. And because they're sharing this info with us, we can be one step ahead of all the global cool-girl skincare and beauty lewks without having to Insta-stalk influencers day and night.
Let's start with some trivia: Did you know Adriana Lima was born in Brazil? The stylish model has been known to rock a statement lip every now and then, and it looks like the beauty-lovers in her homeland are taking note: Searches for and pins of wine-colored lipsticks have shown a 93 percent increase this year in Brazil.
After seeing how great Lima looks in the bold shade on the runway for Miu Miu's 2019 Cruise Collection, it all makes sense!
For a wine-red lip like Lima's on a budget, try the Catrice Cosmetics Ultimate Matte Lipstick in shade "030 Rouge Làlà" ($8, catricecosmetics.com). The matte formula is perfect to swipe on full force for a dramatic look, or to dab on for a more subtle stain, as if you've been casually sipping vino all day. NBD.
No-makeup makeup? Sorry, Argentina's gonna pass on that for now. The search for glitter makeup over the past year has risen 77 percent, so clearly they're a fan of something with a little sparkle and shine.
The glitter doesn't have to be full out, either; a nice dusting on the lids can be enough to make a major statement in seconds!
If you love the look of glitter but hate the mess, the WUNDER2 Glitter Gelly ($16, wunder2.com) is about to be your new best friend. The formula features chunky glitter flecks suspended in a gel that applies without feeling sticky and lasts without flaking off — plus, it comes in five shimmery shades. Here's hoping all the glitter-loving Argentinian pinners know about this dream product, because it makes adding some sparkle to a look as easy as possible.
Following Argentia's lead, France is also having a dramatic beauty moment, with an 88 percent increase in search for artistic makeup. To turn your eyes into a canvas of colors, you need a palette that's chock-full of fab shade options, like the Urban Decay Born To Run Eyeshadow Palette ($49, urbandecay.com), which features 21 shadows in vibrant and neutral shades so you can create a Louvre-worthy masterpiece on your lids.
In Japan, Pinterest searches for orange blush have reportedly increased by 250 percent this year. Even though the concept might sound a little avant-garde, just think of it as a super-saturated coral, and it makes perfect sense. While pink blush is a definite crowd-pleaser, a pop of orange can brighten up your complexion in seconds and help your cheeks achieve a radiant, summery flush. When rocking a brighter shade of blush, a sheer and easily blendable formula is best for building up pigment to your desired intensity. The Fenty Beauty Match Stix in shade "Chili Mango" ($25, fentybeauty.com) is the ideal cream formula in a vibrant orange hue.
Elsewhere in the world, Spain is focusing less on shadow and more on lashes, with searches for Russian volume eyelash extensions up a whopping 700 percent. Too scared to take the plunge and get real lash extensions? Falsies are the solution. For a flirty, fluttery look that's not too intense, please pick up my ride-or-die pair, the Ardell Faux Mink Lashes in style "812" ($5, amazon.com). The Faux Mink collection have a realistic look, and the invisible band makes them a bit more subtle for everyday wear. If you're really trying to go full glam, though, you need to upgrade to a pair of the Huda Beauty Faux Mink Lashes in style "Noelle #14" ($23, shophudabeauty.com) This pair is much more dramatic and voluminous, and it features a dark, thick band that can blend in seamlessly with your liquid liner for night-out looks.
...Did I say liquid liner? Cut to South Africa, where a wing is so, so in.
Cat-eye makeup is up 131 percent in South Africa, and I am so here for this passionate embrace of a good liner flick. To get the look, the new Kat Von D Dagger Tattoo Liner ($20, katvondbeauty.com) is an absolute must, as it features a specially designed angled tip to make a super-sharp wing easier than ever.
Along with the most popular beauty trends in each country, the Pinterest 2018 Global Beauty Report also made note of what eyeshadow colors were trending worldwide, and the results ranged from statement shades to metallics. In the United States, purple shadow was up 52 percent; in Germany, green was up 53 percent; Mexico sang the blues with an increase of 302 percent; the United Kingdom went for some shine with silver up 334 percent; and Australia followed suit with rose gold up 188 percent. If you were looking to dabble in all the above, I highly recommend the Sephora Collection Sephora PRO Editorial Palette ($68, sephora.com), which has the five aforementioned shades, plus 23 other unique colors to play with.
Are you feeling inspired? I know I am, and after seeing which beauty trends were blowing up where, I'm about ready to go on a makeup vacation — and by that, I most certainly don't mean a vacation from my makeup. Instead, I'll be trying out the most popular look from each country and pretending I'm there, because that's as close to a real vacation as I'm going to get. Anyone else looking to throw on some falsies and pretend we're in Spain, HMU.