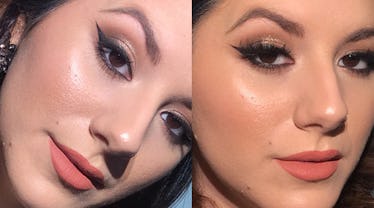 I Compared Mascara, Drugstore False Lashes, & Designer Falsies, So You Don't Have To
Kim Carpluk
Do you feel like a naked mole rat without the proper lash routine? Well, welcome to my entire life and existence. I have five lashes that are thin and clump under the weight of most mascaras. I've tried nearly everything and, when it comes to mascara versus false eyelashes, there is a clear winner for me.
My lash predicament has gone on for as long as I can remember. My eyes are teeny-tiny by nature, so lashes are integral to the makeup mirage I like to create. With the right products, I'm able to take my tiny eyeballs to Disney Princess-esque proportions. Lashes make or break the look. Thick lashes that lift and curl upward toward the sky, giving my eyes the illusion of vertical height. Short lashes that jut straight out or, even worse, downward make me look half asleep.
Because my lashes are such problematic faves, it's hard finding the right combination of products. Most volumizing mascaras are too thick and mushy. They weigh down my very thin lashes. Lengthening mascaras give me lift but don't fix the frail lash problem. The right falsies can make all the difference, but they do require... commitment to say the least.
If you're not sure whether switching your mascara or going the false eyelash route will fix all your problems, then this photographic evidence might sway your decision.
This is me sans mascara or falsies. See, I wasn't joking. My lashes are pretty much nonexistent.
Plus I have hooded eyes, which just exacerbates the issue.
The Best Mascara Ever
Because I'm a makeup artist and a beauty writer, I own practically every mascara know to mankind (for research purposes, of course). Every time something new drops, I try it, only to return to my soulmate mascara after a mere week. This mascara is the only mascara I can wear without false lashes and not feel naked leaving my house.
Kevyn Aucoin The Eyelash Curler, $21, Sephora
Before I even apply my mascara, I do curl my lashes with my Kevyn Aucoin The Eyelash Curler. It's "The Eyelash Curler" because it seriously is the only eyelash curler that exists (in my eyes, anyway). I used to think all eyelash curlers were scams until I tried this one. It lifts my lashes to gorgeous heights without ripping them out. Plus, when paired with mascara, the effects last all day long.
Now, time for my favorite mascara: the Marc Jacobs Beauty Velvet Noir Major Volume Mascara. I die without this mascara. I've tried everything, but I always return to the light of my existence: the Velvet Noir.
Marc Jacobs Beauty Velvet Noir Major Volume Mascara, $26, Sephora
To apply the mascara, I wiggle back and forth at the base of the lash, like how you would brush my teeth, then I pull the mascara through to the tip. This builds the volume at the base, where the lash hair is naturally thicker, and more defined at the tip, preventing clumping.
To get my stubborn lashes to stand straight up, I comb the mascara inward through my lashes toward the direction of my nose.
Make sure to not pump your wand into your mascara. Pushing in air will cause it to dry out much more quickly.
The Best Subtle False Lashes
Though I do love my Marc Jacobs mascara, I do end up wearing falsies every single day. Because I've had so much practice with them, I can whip them on in .5 seconds, so why not? If you feel like you need a little extra oomph, falsies will always get you there. You can learn to apply them, I promise. I taught my mother how to do them and, if she can do them, literally anyone can do them.
Kiss Ever EZ Lashes in No.11, $6.69, Walgreens
My favorite subtle false lashes are the Kiss Ever EZ Lashes in No. 11. They look super natural, like individuals without all the hassle. The band is gorgeously thin, so it's really easy to disguise, even if you don't want to wear a lot of eyeliner. The only downside is that, because the band is so weightless, it can be a bit more difficult to shove close to your lashline.
The effect is worth the effort, I promise.
The Best Dramatic False Lashes
Huda Beauty Faux Mink Lashes in Jade, $23, Sephora
So I actually have an addiction to the Huda Beauty Faux Mink Lashes in Jade. They upturn my genetically downturned eyes. They're dramatic, but don't overwhelm my face.
Plus, they might be $23, but I reapply them pretty much every single day for a month (until the band literally disintegrates).
The thicker band makes this lash super easy to apply but, if you're not a fan of eyeliner, quite a bit more difficult to disguise.
So Which Is The Winner?
So I'm very extra when it comes to most things, especially makeup. For me, the Huda Beauty Jade lashes are the clear winner. They just make me feel so glamorous and last so damn long.
I do love the Kiss lashes for my more natural days. Whenever I wear barely any liner or want a fresh-faced look with a flirty lash, these are my go-tos.
I must give an honorable mention to my favorite Marc Jacobs Velvet Noir mascara. It's the only mascara that I feel comfortable wearing sans false lashes.
In short, always choose the look that makes you feel the most confident. For me, that's the one with the biggest pair of false lashes possible, and sorry, not sorry.