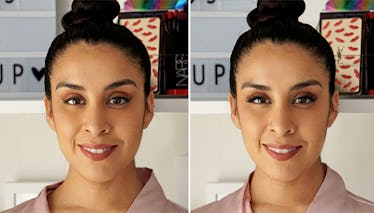 I Tried $13 Magnetic Lashes So You Don't Have To, But TBH, You Really Should
STEPHANIE MONTES
I love the look of thick, full, and super long lashes, but the road to falsies is usually a sticky one. After reading a few Ardell Magnetic Lashes reviews, I finally tried them for myself, and believe me, you'll want the force to be with you, too. Here's everything I learned about using these two-step wonders.
They're reusable.
Technically, all false lashes are reusable, but when they're coated in mascara and glue, they quickly lose their luster. Have you ever tried washing a pair of fake lashes? It's so weird! They're tiny so it's almost impossible to get a good grip on them (I've even dropped a strip down the drain before) and before you know it, you have mascara all over your fingers. Also, am I the only one that thinks they look so creepy when they get wet? Not to be dramatic, but I might as well be holding a spider. I think the entire process is actually kind of gross, but that's just me. Though I think we can all agree that once you've washed them and set them out to dry, they never look the same again.
Ardell Magnetic Lashes are different because they work without glue (obviously!) and they don't need to be coated in mascara after you put them on, which keeps them super clean and always ready for another use. With regular lash strips, the steps usually go like this: Curl lashes, glue the strips on, and apply mascara to blend the fake lashes with your real ones. Because the magnetic versions sandwich your real lashes in between, they blend themselves with having to apply mascara. You can comb through the lashes with an alcohol-soaked spooley brush after each use to sanitize them, but the days of standing at your sink with wet, limp lashes in your hands are so last year. So far, I've used mine at least six times and they still look as good as the first day I tried them (see below).
Ardell Magnetic Lashes, $17.99, Amazon
Your first try won't go well.
If you're running late, this is not the time to take your first crack at them. Trying to them on your first try will be awkward. Basically the way they work is you have two strips per eye. One goes on top of your real lashes and the other goes under them. There are three or four tiny magnets on each strip (depending on the length). These magnets snap together, holding your real lashes in between — they're much more comfortable than they sound. When it's time to put them on, the bottom row will definitely give you trouble. You'll have to put them under your lashes and get them as close to your eye as possible. Yes, it's as terrifying as it sounds, but trust me, you get used to it.
On your first few attempts, the lashes will sit far from your lashline and look totally unnatural but after some practice, you'll get it. Don't get discouraged — you'll love them soon! My favorite trick is to pinch the top and bottom of my lashes with my thumb and index finger and wiggle them closer to my lash line. It took me a while to think of this one but it's a total game changer. The good news is the removal process is much easier. You literally just slide them off. And the best part is you don't have to worry about pulling on your eyelid or having glue stuck in your lashes.
Ardell Magnetic Lashes, $17.99, Amazon
They're so addicting.
Like I said, I've put them to good use since I first cracked open the box. I've gotten really good at putting them on. At this point, it takes longer to do my cat eye than it does to put on my falsies — I don't have to wait for the glue to dry or make a mess getting them in place — and speaking of eyeliner, you can skip it altogether if you want. You usually line the upper lash line to hide the strip, but since the magnetic versions don't attach to your lid, you don't have that problem anymore.
These new lashes come in five styles. I'm currently obsessed with the more natural style, Ardell Accent 002 Magnetic Eyelashes. They're a three-quarter length version that add a little something to the corners of my eyes. These only have three magnets (full strips have four), which makes them easier to apply. If you prefer the look of a full strip, you can cut them in half and apply one piece at a time.
My routine will never be the same.
In a world of fiber-laced mascara, growth serums, and keratin lash lifts, the ease of popping these puppies on and off as I please simply can't be matched. Plus, for about the same price as a tube of mid-range mascara, they're the one steal that will never result in raccoon eyes.
Ardell Magnetic Lashes, $17.99, Amazon