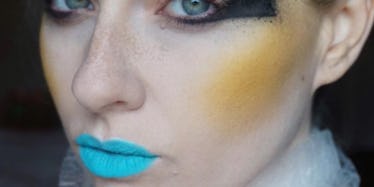 People Are Rocking Yellow Blush And It Weirdly Works For An Everyday Look
Two weeks ago, I walked into a M.A.C. makeup store in a horrible mood, which is about as smart as going grocery shopping when you're hungry.
I walked out two hours later with $200 dollars down the drain. I had two new brushes, highlighter, lipsticks and most shockingly, ORANGE blush.
I never wear blush, let alone blush in an experimental shade. In fact, I don't like experimental shades at all... but I cannot stop wearing this stuff.
Makeup artists have led us into a Lisa Frank dreamworld, using highlighter, glitter and holographic colors to make us all look more mystical than a double-rainbow.
The most recent trend, as reported by Allure, is yellow and orange blush, and it's prettier than you'd ever imagine.
Are you kidding me with this? If you told me a year ago that I would be rushing to get myself some yellow blush, I'd tell you to take a nap. But this is gorgeous. It's subtle AND it's bold, and somehow at the same time?
It has a great contouring effect.
You might think that putting yellow blush on your cheeks would make you look ill, but the makeup artists displaying this new trend on Instagram don't make it seem that hard to pull off.
In some cases, it even has a contouring effect.
It's like bringing back the '80s.
From an everyday look to an attention grabbing one that combines colors, we are in full support of this new spin on a retro makeup trend reminiscent of 1980s boldness.
The dreamy space age effects allow you to channel your inner Bowie, and I think we could all use that kind of inspiration in our lives...
Of course, makeup trends come and go pretty quickly now, but my personal hope is that this one sticks around for a while.
The truth is, we all have yellow or orangey tones in our skin, so the blush acts to draw those out. When you think about it, it's like, why weren't we doing this all along?
Like I said, it's whimsical AF, and we need this kind of inspiration in our lives.