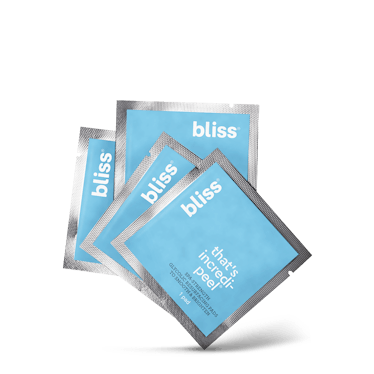 Bliss Partnered With PETA To Become A Cruelty-Free Brand, So You Can Feel Good About Your Buys
Bliss
If supporting beauty lines that don't test on animals is at the top of your list when searching for products, then you can officially add this popular spa brand to your list of go-tos. Yep, that's right, Bliss is officially cruelty-free, and they partnered with animal rights group PETA to become part of the Beauty Without Bunnies program for the beauty business' recent brand re-launch.
The activist group created the program to support companies that create products without harming animals. And according to PETA, over 645,000 people visit their database each year to discover new cruelty-free companies, which could draw in many new customers for businesses. "PETA welcomes Bliss and its commitment to cruelty-free products to our Beauty Without Bunnies program," PETA senior vice President Kathy Guillermo said in a statement. "Bliss recognizes that no animals need to suffer and die to create amazing products, and we applaud their compassion."
In addition to becoming 100 percent cruelty-free, Bliss' new products also contain no parabens, and the brand boasts an entire collection of vegan skin and body care products, including everything from Aloe Leaf & Peppermint Foot Cream to Lemon & Sage Body Butter and even Bump Attendant, which are medicated pads that work to get rid of pesky ingrown hairs. Bliss announced they'll also offer a cruelty-free spa menu, which will debut in spring 2019.
"As a brand we are passionate about how our products are made and where the ingredients come from. Vowing to be cruelty free was an indisputable choice when relaunching, as it is of the utmost importance to not only our consumers, but our company and brand values," Bliss CEO Meri Baregamian shared in a statement. "Shoppers can find comfort in the fact that Bliss formulas are 100 percent cruelty-free and free of other harmful ingredients without sacrificing the same high-quality and innovation that they have come to expect, know, and love from the brand."
Bliss joins the likes of several other beauty brands who don't believe in testing on animals. Urban Decay, e.l.f. Cosmetics, and Paul Mitchell are all cruelty-free, as well as cult brands like Axiology Beauty and Pacifica Cosmetics. Even Harry Potter star Evanna Lynch, who played Luna Lovegood in the film, recently created a beauty box that didn't require any little critters to be harmed. "I'm very passionate about animals and I also love makeup and I do not believe that the two should intersect," she said via Instagram story in early July, while still keeping mum on the details. "I don't think you should need to use animals for makeup, however, that is the way the industry is at the moment. So we're trying to change that." Much like Bliss, Lynch also worked with PETA to get the subscription box under the Beauty Without Bunnies program after working with the group to expose "how horrible the animal testing industry is."
Thankfully, we're seeing more and more of the beauty world move toward becoming cruelty-free businesses, as well as providing products that are free of harsh chemicals. I can't wait to see which company makes a move in the right direction next!