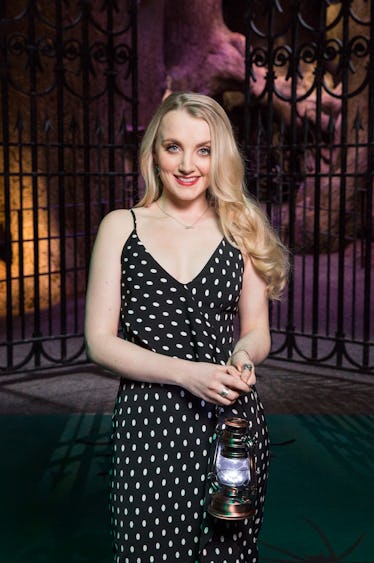 You're Gonna Lovegood This 'Harry Potter' Star's New Cruelty-Free Beauty Supply Box
John Phillips/Getty Images Entertainment/Getty Images
Hermione, aka Emma Watson, is definitely the most well-known female character from the Harry Potter franchise, but one of her co-stars is making a new name for herself. A budding entrepreneur, Harry Potter star Evanna Lynch's beauty box is a new subscription service launching later this year. Even better than the fact that it exists at all, is that it'll be cruelty-free.
Lynch played Luna Lovegood, a recurring character in the final three J.K. Rowling books and the last four movie adaptations: Harry Potter and the Order of the Phoenix, Harry Potter and the Half-Blood Prince, and Harry Potter and the Deathly Hallows (parts one and two for the movies). Lovegood was an eccentric character known for her fierce loyalty, quirky style, and for how much she loved animals. Perhaps coincidentally, or maybe Lovegood's values rubbed off on Lynch, the actress has announced that she is starting a new subscription beauty box and all of its to-be-featured products will be cruelty-free.
Labeling a product as cruelty-free is, unfortunately, not regulated by the FDA. In general, however, if a brand labels something as cruelty-free, it usually means that the product was not tested on animals. PETA's cruelty-free bunny logo is an easy (and cute) thing to look for if you want products that weren't tested on animal. Or, you can sign up for Lynch's forthcoming subscription service!
Lynch announced the exciting project via her Instagram Story, saying,
Hi guys, I just wanted to let you know about a cool new project I'm doing soon. I'm going to be launching a cruelty-free beauty box and I would really love your input on it. I can't tell you all the details – it's a collaboration.
Lynch continued the promotion by explaining her passion for the humane treatment of animals, particularly the need to advocate for it in the beauty industry. Said the actress,
I'm very passionate about animals and I also love makeup and I do not believe that the two should intersect. I don't think you should need to use animals for makeup, however, that is the way the industry is at the moment. So we're trying to change that.
Lynch referenced a video she created with PETA to raise awareness for the harmful and inhumane practices of animal testing:
I think many of you might have seen the video I did with PETA a few months ago that exposed how horrible the animal testing industry is, and I think it's something we all know but it's harder to put into practice. So, this is where the beauty box comes in and is going to help!
The beauty box product is very much in it's early stages, and Lynch actually asked interested consumers to take a survey about it so she can find out what you really want in your box. She explains,
Basically, we would love to see what you would like in this kind of box – what vegan and cruelty-free products you're missing or you want to see more of.
If you're a survey-lover like me, go ahead and give Lynch your feedback with her beauty box survey. It asks about potential items including cosmetics, skincare, as well as candles and even vegan leather accessories.
Lynch concluded by saying, "There will be an official announcement about the beauty box later on in the summer."
The actress also gave her cat a special shoutout: "Puff, thank you so much for your wonderful input."
Have you ever seen a more aptly named cat?
Keep an eye on Lynch's Instagram page for more announcements about the beauty box, and for more cat photos.