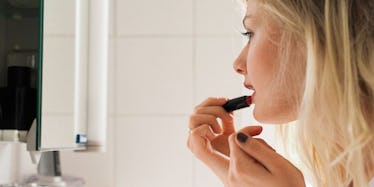 Cruelty-Free Makeup Brands That'll Make You Ditch Your Favorite Beauty Products
So you may be wondering, "What is all of the hype with cruelty-free cosmetics?"
According to DoSomething.org, "Over 100 Million animals are burned, crippled, poisoned, and abused in US labs every year."
While countries such as a India and the European Union have already banned animal testing, most American brands still partake in this inhumane act.
When you choose brands that test on animals, you are (most likely) not just purchasing cosmetics that could have contributed to the suffering of an animal. There could also be actual animal parts within your cosmetics.
Specifically, an ingredient in Givenchy's Rouge Interdit Satin Lipstick in shade Marble Rouge Revelator contains lanolin oil, which is the excretion from wool-bearing mammals that is found in most lipsticks and makeup removers.
As if that news wasn't bad enough, the Colour Pop Cosmetics eyeshadow in shade Come and Get It contains the ingredient carmine, which is also called "cochineal."
According to Live Science,
Cochineal extract is extracted from the cochineal, specifically the female, a species of insect that belongs to the order entomologists refer to as the 'true bugs.'
In other words, these cochineal beetles are crushed in order to produce a red powder that will aid in the production of creating the "perfect" red shade for their lipstick.
Unfortunately, these two ingredients are just the beginning of the long list of animal products that are sneakily imbedded within the cosmetics that women rub onto their skin on a daily basis.
If you are hoping to get a new start in avoiding cosmetic brands that are placing these ingredients into your body, considering that much of what we place on our skin is absorbed into our bloodstream, here are the top five cruelty-free cosmetic brands of 2017:
1. Pacifica Cosmetics
Talk about affordable, cruelty-free and high-quality cosmetics. Pacifica is a brand that is transforming the cosmetics industry by recreating popular shades with healthier ingredients in order to show customers of all ages that healthy makeup can still make a statement.
Radiant Shimmer Coconut Multiple Palette, $14, Dermstore 
With its products being sold at Target, Ulta, Whole Foods and online, Pacifica Beauty is most certainly accessible. Pacifica's goal is to prove that natural cosmetics can deliver great results through making eye-shadow palettes that have an array of both natural and bold colors.
My favorite palette would have to be the Solar palette, which contains shadows such as Mermaid Aqua and Glow. It is also known for its irresistible perfume scents, such as Sugared Amber Dreams.
Solar Palette, $32, Amazon
All of the products are 100 percent vegan and gluten-free, and to top it off, all of its packaging is 100 percent recyclable.
So, the company can have pride in its title as an eco-friendly company.
2. Axiology Beauty
Axiology Beauty lipsticks are a force to be reckoned with. With their tag line being, "sustainably sexy," the bold colors not only contain natural ingredients, but their bright pigmentation allows them to compete with the best.
While the brand does contain natural pink shades, such as Identity, it also contains fun and spunky shades, such as the light purple lipstick called Enlighten.
Axiology Beauty Lipsticks, $30 each, Amazon 
Its ingredients page allows its customer to feel comfortable with the products, as each ingredient is shown as a fruit, vegetable, seed, nut or plant.
Talk about natural goodness!
3. Au Naturale Cosmetics
The purpose of this cosmetic brand is in the name: natural.
Au Naturale Cosmetics sticks to its policy of acquiring its ingredients from its Farm to Face program, in which it promises the customers the highest quality ingredients.
The Celestial Organic Crème Highlighter Stick is clearly a fan favorite, as it features pure ingredients such as jojoba seed oil and lavender for the ultimate dewy glow.
Celestial Organic Creme Highlighter Stick in Rose Gold, $32, Birchbox 
In addition, its Organic Crème Eye Shadows blend seamlessly for the ultimate smokey look that you can take from daytime to night.
Organic Creme Eye Shadows, $20 - $24, Amazon 
4. Elate Cosmetics
Elate Cosmetics doesn't just see its products as self-enhancing beauty tools, but as a true act of self-care because of how its natural ingredients truly soothe and heal your skin.
The company stands by its policy of only using natural ingredients, and it shows through its intriguing color pallets that represent the natural colors you would find in nature.
Definitely check out its Universal Cremes and the natural tones within the Create Eye Colour eyeshadows.
Universal Cremes, $20, Elate Cosmetics; Pressed Eye Shadows, $16, Elate Cosmetics 
Once you pick out your favorites, you can even purchase a Bamboo Pro Palette for your collection, which truly makes you feel like a makeup pro.
5. Orglamix
The Orglamix website is the holy grail of vegan eyeshadows. Endless shimmery shades are available in a loose, cream and pressed format.
The website has makeup tutorials and shade suggestions for every eye color, and each shade has specific notes from the owner of the company, Cheri Tracy, which will allow you learn great tips and tricks as to how you can get the best wear out of the shadow of your choice.
In addition, the brand offers makeup kits with pre-made looks that allow your makeup routine to become quick and simple, but also eye-catching and unique.
With high-quality cosmetics brands such as these, there is truly no reason to resort to brands that are causing great harm to animals.
After all, if an ingredient that is a part of your makeup routine is considered to be risky to the point where it needs to be tested on animals before it can be "tested" on you, do you really want to rub these chemicals on your skin anyway?
Treat yourself in the year 2017 to ingredients that will not only give your skin a glowing look on the outside, but ingredients that will also truly nourish your skin and body from the inside out.