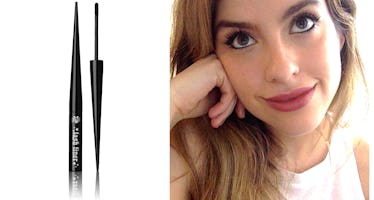 Kat Von D Made A Liquid Liner For Your Waterline & I Actually Can't Believe It's Real
Kat Von D/Sophie Wirt
In middle school, I loved lining my waterline (i.e. the inner eye area) with a charcoal colored pencil. My 12-year-old self couldn't go anywhere without it, and I would reapply every hour or so (things got smudgey pretty quickly). The new Kat Von D Beauty Lash Liner could have made my life so much easier.
It was only a little over a decade ago that — against my better judgement — I decided one day to apply liquid liner in my waterline. My hope was that I could achieve an intense liner look to replace my fade-prone pencil. Instead, I ended up with an inky, cloudy mess that traversed across my eyeball (and temporarily compromised my vision). What I would've given for a budge-proof, jet black liner that actually stayed put from chemistry class to cross country practice! At the time, such a beauty product seemed like an impossible fantasy. Then again, that was before Kat Von D launched her eponymous eyeliner-centric beauty brand, which boasts a bevy of now cult classic liquids. The makeup maven's latest and greatest innovation, the Kat Von D Beauty Lash Liner, fulfills my wildest waterline dreams.
I can't be the only one who practically somersaulted with excitement upon learning about this product. After all, no other brand has ever created a liquid liner specifically formulated for the waterline. Since my younger years, I've shied away from rimming the inner part of my eyes with pencil. I'm all about makeup efficiency, and the constant reapplication was become tiresome. Fading is a non-issue with the new Kat Von D liner. In fact, the liner is inspiring me to recreate my signature look from years past. Waterlining 2.0., here I come.
Upon opening this liner, I was immediately surprised by the shape of the brush. Unlike most felt tip or tapered liquid liner brushes, this one has a blunt, almost rounded tip. Consequently, you have to apply the product differently than you would regular liner — which is not to say that it's difficult. In fact, it's a million times easier than applying a traditional liquid liner. Simply dip the wand into the tube to pick up product. (The product itself isn't quite as runny as traditional liquid liners. Instead, it has an almost gel-like consistency.) Next, dab (don't line!) the product on your waterline. Lastly, strike up a staring contest with your cat for about fifteen seconds while the formula dries down. Blink, et voila! Perfectly lined, smudge-proof waterlines that could give any traditional pencil a run for its money. (Comparison below!)
For those days when I don't want an entirely kohl-rimmed smize, I like to use this baby just on the upper waterline. (Using eyeliner to tightline the upper lid is an easy way to fake fuller lashes; it creates the illusion of filling in gaps.) If, on the other hand, I'm in the mood to go all-out black on black, it's fun to use this liner on both the upper and lower waterlines. I've even experimented with doubling up on liner formulas, adding Kat Von D Tattoo Liner in Trooper ($20) on top of my outer lid. Bonus points if for adding black eye shadow on top of it all for a truly piercing gaze. (Below!)
Weirdly enough, my only qualm with this liner is simultaneously a selling point: This stuff does. not. budge. I'm very impatient when it comes to removing makeup, and this liner was pretty darn stubborn, even when I used makeup remover super-close to my lashline. That said, a little bit of frustration is a small price to pay for a formula that won't let you down with a midday smudge, don't you think?
The Kat Von D Beauty Lash Liner launches on Friday, July 20 and retails for $20 at sephora.com and KatVonDBeauty.com.