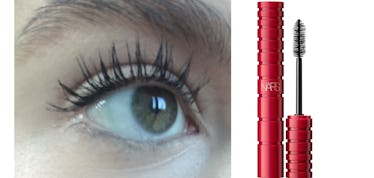 NARS' New "Climax" Mascara May Actually Top "Better Than Sex" & I Didn't Think This Day Would Come
NARS Climax Mascara/Sophie Wirt
I love gossiping about mascara. In the same way some people recount their rendezvous over brunch, I can spend the whole time obsessing over the feel, texture, and wear of a formula I experimented with the night before. I've cycled through so many at this point, that it really takes a proper standup formula to make me want to settle down and continue using it on the reg. But as you'll read in my NARS Climax Mascara review, this new drop was worth the wait.
Allow me to backtrack to my pre-NARS-Climax days. Like virtually every other person who has experienced the Too Faced Better Than Sex mascara, I've fallen in love with the stuff. How do I count the ways? The packaging is eye candy, the formula always compliments my eyes, and it hardly ever flakes on me. I can even shower with it (hello, waterproof version). In the context of my past relationships, this mascara's cheeky name actually rings true.
I've flirted with the idea of searching for a new ride-or-die mascara, but, ultimately, I've remained loyal to my main squeeze. That is, until a cherry red tube dubbed "Climax Mascara" rolled across my desk. The packaging alone was enough to spark my interest — simple, yet intricate at the same time, its ribbed edges strike the balance between cool and classic. (Take a peek, below.)
A temptation too strong to resist, right? I spent a minute just caressing the tube. When I finally did open it, I was vis-à-vis a positively girthy mascara brush head.
In all honesty, I was predisposed to like this mascara, thanks to its seductive packaging and my personal predilection for NARS. That said — as soon as I actually applied the formula to my lashes, I realized that none of the aforementioned factors truly mattered. The formula could've been packaged in the world's most blasé tube; it could've come from a gum ball machine at the mall... and I would've felt the same love for it upon application. Yes, the handsome packaging was what initially attracted me, but after truly experiencing the formula, I realized the exterior is merely the cherry on top; a welcome bonus.
So, here are the juicy deets. I'll start by saying this: The formula is positively mind-blowing. First, it imparts mega lash curling power. Secondly, the formula lays down a ton of volume, which is only intensified by its inky black hue. Dubbed "explicit black," it's one of the noirest noirs I've ever used. Usually, I am a million coats of mascara kind of gal (never in my life have I felt "finished" after a single swipe). However, after one swipe of Climax my lashes looked acceptably defined — even by my standards. Admittedly, I was still craving more after the first swipe (again, that's just me). Bottom line: Whether you apply multiple coats of climax or just one, it satisfies without feeling stiff or crunchy. (Slide below for before and after.)
You can get your hot little hands on the NARS Climax Mascara now for $24, exclusively at Ulta. It hits Sephora shelves and Sephora.com starting September 1.