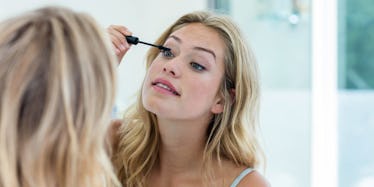 130,000 Women Are Obsessed With This Mascara, And We're Not Surprised
Shutterstock
Some women dream about getting married, starting families and beginning businesses. Most of the time, I fantasize about finally buying the perfect mascara. A mascara that's, you know, better than sex.
Literally.
Surely, I'm not the only one with big mascara dreams. It'll be inky black without leaving smudges everywhere and lengthening without clumping my lashes into those weird, spider leg-like chunks.
I've come close to makeup nirvana several times over (Lorac Pro Plus Fiber and Lancome Grandiôse Mascara), but I'm always on the hunt for a new pick.
As Cinderella once warbled, "a dream is a wish your heart makes." Technically, though, a dream could also be a wish your eyeballs make. And mine wish for a magic formula that will magnify my eyes so much they'll probably scare people.
Isn't that what beauty is all about?
If you're looking for mascara Mecca, turn to Sephora. The beauty chain's best-selling mascara online is Too Faced's Better Than Sex mascara, a baby pink bottle with sexy black script across the tube.
Almost 7,000 reviews exist for the $23 product, and an incredible 130,000 "loves."
In fact, Better Than Sex is about as close to a raunchy Tinder message as your makeup's likely to get. Too Faced designed the brush to mirror the shape of a woman's body and recommends just two coats of mascara for the best effect.
Sephora reviewers say the bombshell mascara delivers on "mega length" and makes wearers appear to have "twice the amount of eyelashes."
Why spend hours applying fake eyelashes (or, as I call it, gluing your eyelid to your eyebrow totally by accident) when you could just hand over cash and be done with it? I'll pay for convenience any day.
Mascara, down. Now I can start achieving, you know, real goals.