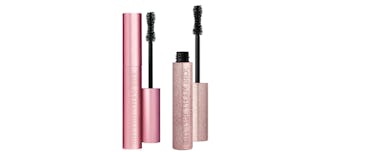 Too Faced Just Dropped Better Than "Birthday" Sex Mascara & It's Sparkly AF
Too Faced
There are certain things that you just can't have too much of in life. In my opinion, glitter and mascara top that list. The more you pile on — of both — the better, in my opinion. The Too Faced Better Than Birthday Sex mascara is here, and it totally checks both boxes.
Let's backtrack for a sec. Anyone with a mascara-hoarding tendency (solidarity!) has tried the classic Too Faced Better Than Sex mascara, right? The name is only slightly hyperbolic, if you ask me. While I love...getting frisky, my love for this mascara knows no boundaries. The formula is thick and scrumptious and decadent and bold. A few swipes of the stuff leaves me with the smokiest bedroom-ready smize and a newfound Beyoncé-level of confidence (truly).
So imagine my excitement when I learned Too Faced just dropped a new, even better than Better Than Sex mascara? As its name suggests, the new Better Than Birthday Sex mascara was launched to celebrate of the brand's birthday. And this isn't any old birthday — it's Too Faced's 20th bday! (Side note: The brand is one year younger than Kylie Jenner, who is also launching some goodies for her birth month!) The "Birthday Sex" title is a nod to the classic Jeremih song, methinks... and I just think it's so clever!
So, what differentiates the birthday mascara from the non-birthday mascara? For one, sparkly packaging! The OG Better Than Sex mascara has a gorgeous metallic pink tube; the Birthday Sex mascara takes the pinkness to a whole new level with the addition of glitter! Seriously, this tube looks like it has been dipped in a vat of shimmery fairy dust.
Aside from becoming a gorgeous addition to your vanity, the formula itself is also bound to be gorge, because the inky black product and thick, curved brush are exactly the same as the original BTS mascara. Honestly, I breathed a huge sigh of relief when I learned that Too Faced didn't tamper with its OG magical formula. And I'm sure I'm not the only one: according to reports from Bustle, the Too Faced Better Than Sex mascara is the most frequently pinned, best selling prestige mascara in the United States. No need to mess with an iconic formula!
Bottom line: If you like your packaging with a side of glitter galore, you can snag the BTS mascara formula you know and love with a little bit of an external face lift. Get it on the Too Faced website or Sephora mobile app for $24 — i.e. the same price as the non-sparkly one. (Yay for no additional glitter charge!)
If you really want to go all-out for celebrating Too Faced's birthday, may I suggest indulging in the brand's limited edition glitter hairspray? The brand also dropped an entirely new, limited edition line of color cosmetics, aptly named "Cheers To Twenty Years." The products in the collection span from a sparkly "Then & Now" palette to "Throwback" lipsticks in sparkly metallic hues (below).
Too Faced fans, now's the time to pay homage to a brand that has been keeping us feeling like the most gussied up, glam version of ourselves for two decades!