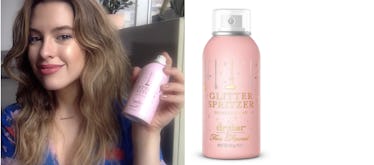 Too Faced Is Dropping Glitter Hairspray & It's Soft, Shiny Magic
Sophie Wirt/Drybar
Despite my researching, testing, and writing about beauty products day in and day out, Too Faced still manages to get my heart racing. As the unofficial purveyor of everything pink and sparkly, the brand has caught my attention with every product it releases — and I know I'm not the only one who can't get enough. Here's something we can collectively squeal about: this Too Faced & Drybar Glitter Spritzer hairspray review.
As if Too Faced and Drybar weren't amazing enough independently from each other, the hair and beauty mavens came together to create a product that is so perfectly on-brand, it might make you wonder why they didn't come up with it sooner. The Glitter Spritzer, as it's called, came to fruition as a token of celebration for Too Faced's 20th anniversary. Because, what better way to celebrate a brand like Too Faced than to guild yourself in head to toe glitter? Dry Bar founder Alli Webb teamed up with Too Faced founder Jarrod Blandino to mash together the best of both words.
The Glitter Spritzer is dubbed a "sparkle spray" — a categorization I think we can all agree should become as standard as traditional hairspray. Sparkle spray is just what it sounds like: hairspray infused with shimmery flecks of glitter. Specifically, these flecks are a mixture of gold and silver (no need to choose between your favorite metallics). And, because this spray is from Drybar, you can rest assured that it'll leave your hair feeling sexy and looking legitimately good (not crunchy and matted). Aside from the glitter factor, the biggest selling point for me are the fragrance notes: coconut, amber and vanilla. (I don't know about you, but I can practically smell the stuff just from reading those words!)
So, does the scent actually live up to its yummy claims? Does the sparkle transform my hair into the fabric of fairy dreams? In short, yes and yes.
As per the directions, I shook the can really, really well. There are two options from here: A) dispense into palms and run your hands through your strands or B) hold the spray half a foot away from your hair and spray away. My natural inclination was to do the latter, but I tried both ways just for the sake of experimentation. Both methods give roughly the same effect.
Imagine whiffs of the coziest vanilla candle with a touch of tropical coconut. In other words, this stuff smells divine! Honestly, I shouldn't be surprised. After all, I've never met a Drybar hairspray that smells subpar, and Too Faced is responsible for some of the most addictively delicious-smelling eyeshadow palettes ever created (I'm looking at you, Too Faced Chocolate Bar Eyeshadow Palette).
Considering that the Glitter Spritzer contains, well, glitter, I was surprised by how soft my hair felt after using it. The spray provides just the right amount of hold without feeling the slightest bit stiff. In fact, the formula wears more like a texturizing spray than your traditional firm-hold hairspray. For this reason, it's ideal for spritzing over loose, tousled styles. If you, like me, hardly ever wash your hair (#shameless), this stuff is perfect for spraying into second day hair for a little bit of extra joozh.
The Glitter Spritzer comes in an age when next-level hairsprays are appearing on shelves outside of your local party supply store. No longer does fun hairspray have to impart a crunchy, stiff feel. Take the Hush Prism Airbrush Sprays ($24; sephora.com), which come in a myriad of mystical, metallic colored hues that actually, (actually!) show up on brunettes. Admittedly, the Glitter Spritzer imparts more of a subtle glimmer than a full-out bedazzled mane (it was difficult to capture the shimmer in photos). Honestly, I prefer it that way; I'd argue that this stuff is subtle enough for daily wear. Because who said you shouldn't wear glitter in your hair on the reg?
You can snag the Glitter Spritzer Sparkle Spray starting Aug. 1 on Drybar's website. It's $20 for 3 ounces. (TSA-friendly!) Shine on!