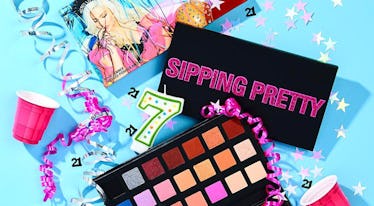 This Is When Kylie Cosmetics' 21st Birthday Collection Drops, So Catch Me Constantly Refreshing The Site
I know it's not my birthday, but the Kylie Cosmetics 21st Birthday Collection is so good, I might have to throw some kind of party solely as an excuse to go full glam for a night. The collection is packed with bold, statement lip shades and bright, shimmery shadows — give me a good pair of lashes and I couldn't ask for anything more. So when does Kylie Cosmetics' 21st Birthday Collection drop? It's sooner than you think, so I highly suggest you start making plans now so that you've got somewhere to show off your new red lip.
If you live under a rock or don't follow Kylie Jenner on Instagram (same thing, TBH), you might've missed the news about her latest collection, so allow me to give you a brief rundown. In celebration of finally turning 21, she's created one of her most major collections yet, with brand new shades, some older fan favorites, new formulas, and of course, stunning packaging. Overall, the collection contains six matte lipsticks, a birthday lip trio, a pressed highlighter, an eyeshadow palette with 21 new shades, three newly reformulated liquid eyeshadows, three of her signature matte lip kits, and a set of six lip minis.
Even though Jenner is all about a good glow, the collection only features one face product, a pressed highlighter in shade "Champagne Showers." Now that I've seen the complete packaging, though, I kinda wish there were more, as she's clearly stepped it up. The original Kylighters ($22, kyliecosmetics.com) were cased in simple packaging, while "Champagne Showers" has much sturdier and stylish black and hot pink plastic casing, plus a much-needed mirror.
Other than "Champagne Showers," the colletion is all about eyes and lips. Jenner has released her largest eyeshadow palette to date, featuring 21 shades. (And another huge mirror! Yasss, packaging upgrade!) The "Sipping Pretty" palette appears to feature mattes, shimmers, metallics, and oh yeah, some of the cutest shadow names I've ever heard. "Pour Decisions?" I love a drinking pun, especially when the coordinating shadow is a glittery red-wine shade.
In addition to the palette, there are three ultra-shimmery Liquid Shadows, which, Jenner noted on her Instagram Story, have a different formulation than her Glitter Eyes ($40, kyliecosmetics.com).
And finally, the largest portion of the collection is devoted to the lips. All in all, there are 18 lip options, and while this does seem slightly excessive, I'm kind of mad she didn't take it all the way to 21 options. Among these choices are her Matte Lip Kits and Lip Minis, a glam red Birthday Lip Trio, and six brand new Matte Bullet Lipsticks.
If you weren't familiar with the new goodies, you are now, so I can only assume you're dying to know when they're available. Any chance you're in L.A.? If so, you're in luck, because Los Angeles locals will be the first to get the collection, thanks to the Kylie Cosmetics Birthday Pop-Up Shop that opened on August 1 at Westfield Century City.
And for the rest of us mere mortals? The 21st Birthday Collection will go live on the Kylie Cosmetics website on August 6. Kylie's actual birthday is on August 10, so if shipping is fast, you might just get the goods in time to celebrate.