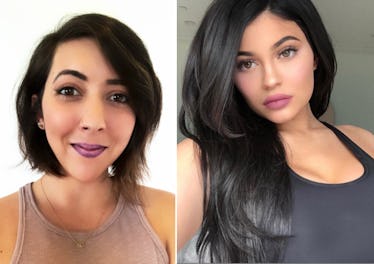 Kylie Jenner Has Her Own Instagram Face Filter & I Tried On Every Shade Of Kylie
Alison Turka/Kylie Jenner
Kylie Jenner has so many lip kit colors by now, I've lost count. And as someone who doesn't often wear lipstick, I'm nervous to commit to one of those many colors before trying it on. Alas, a solution! Here's how to get Kylie Jenner's lip kit filters so you can try on some of the celebrity's lipstick shades before you buy.
Jenner has 112 million Instagram followers, over 25 million Twitter followers, she was just declared a "self-made billionaire" by Forbes due to her Kylie Cosmetics empire, and yet I've never seen her as more successful until today. Jenner now has her very own branded Instagram face filter and if that's not success, I don't know what is. No, this doesn't mean you can put her famous face onto your own (that's more of a Snapchat thing, anyway), but the filter let's you try on a few different Kylie Cosmetics lipsticks. It also gives your look a little boost by applying some faux foundation and eyelash extensions – they digital lashes are low-key just as bomb as the lipsticks.
To use the filter, make sure you follow Kylie Jenner on Instagram (as if you don't, already), then tap the camera icon in the top left corner to add to your story. Turn the camera to selfie-mode and tap the smiley face image in the lower right corner to reveal all of the Instagram filters, scroll (almost) all the way to the end and you'll see one that says "KYLIE," and you're in!
There it is! Notice my epic eyelashes and please not that they are (unfortunately) not like that IRL. Can you tell I'm excited to try out the lip colors?
Candy K
First up is the Candy K Lip Kit ($29; kyliecosmetics.com), which on the filter comes up as dark rose color. I'm into it!
Dolce
The Dolce Lip Kit ($29; kyliecosmetics.com) is a deep neutral brown. Again, I don't normally wear much lipstick, especially such dark colors, but I might have to give this one a try.
Posie K
The Posie K Lip Kit ($29; kyliecosmetics.com) is a warm berry tone, spot on for that awkward time between summer and fall. Also, Kylie, thank you for those lashes, I die.
Say No More
This color is fun for a filter but I'm glad I was able to try it out here because I don't think it's for me outside of Instagram. If it's your style, though, check out the Say No More Lip Kit ($27; kyliecosmetics.com).
Shady
I was most (pleasantly) surprised by the Shady Lip Kit ($29; kyliecosmetics.com). I hadn't pegged myself as someone who would be able to pull off a blue lip look but it made me feel kind of bad*ss.
Boy Bye
Boy, bye but lipstick, hello! This full lip kit is currently unavailable but you can get the Boy Bye Velvet Lipstick ($16; kyliecosmetics.com) on its own.
Glitz
The Glitz Super Glitter Gloss ($15; kyliecosmetics.com), as the name suggests, is v sparkly.
Going forward, you can expect all of my Instagram stories to be done with this look. K, bye.