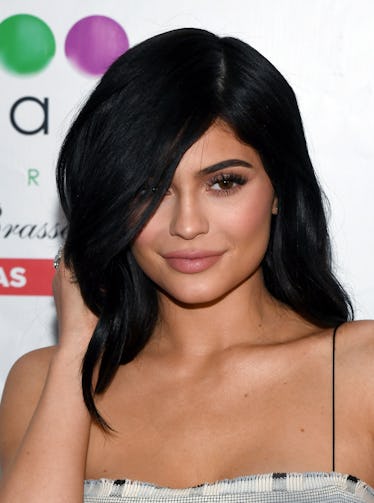 Dictionary.com Threw Major Shade At Kylie Jenner's 'Forbes' Cover & Fans Are Pissed
Ethan Miller/Getty Images Entertainment/Getty Images
Kylie Jenner is, hands down, one of the world's most successful people. And she hasn't even reached her 21st birthday yet. Recently, Forbes included Jenner on their 60 Richest Self-Made Women list. But Dictionary.com may have had an issue with that. In response to Kylie Jenner's Forbes cover photo, Dictionary.com took the opportunity to define the term "self-made" for the world at large. The implication? That Jenner was anything but self-made. And fans are not having it.
Dictionary.com's shade came when Forbes posted Jenner's cover photo on Twitter. "How Kylie Jenner leveraged her massive social media following to build a $900M cosmetics fortune. #SelfMadeWomen," Forbes said in a tweet that linked to their feature on Jenner.
Dictionary.com then quoted the tweet and gave their followers something to ponder. "Self-made means having succeeded in life unaided," the tweet said. "Used in a sentence: Forbes says that Kylie Jenner is a self-made woman."
So, with that definition in mind, is Jenner a self-made woman? Perhaps not, but fans and non-fans alike aren't here for Dictionary.com's shade. In fact, loads of people came to Jenner's defense.
"This is uncalled for, seriously," one Twitter user wrote. "And I'm not a Kylie fan but look up "salty," where you work, and have a seat."
Another Twitter user called Dictionary.com petty. "Because she comes from a famous family?" they wrote. "i don't know who you are but your petty betty is showing."
Despite the backlash against Dictionary.com, some Twitter users were quick to defend the publication, stating that they couldn't achieve what Jenner did without help.
"I work hard every day," a Twitter user wrote in defense of Dictionary.com. "Unfortunately, it is extremely unlikely I will ever have close to a billion dollars. I also do not have an Olympian for a father, sex tape star for a sister, famous and wealthy siblings, or mother who is ex wife of a famous and wealthy attorney. "
Another person chimed in, saying that the argument was really about what "self-made" truly means.
"These fanboys are so stupid that they pop up anywhere trying to defend Kylie," they said. "The argument here was whether she is self made or not and she isn't. That's it! Nobody is trying to cuss her, just clarifying that she shouldn't be counted in the same bracket as of self made."
All of these people have valid points. It's true that Jenner isn't exactly self-made since she became a business woman via her family, but that shouldn't detract from the amount of success she's achieved.
According to Forbes' article on Jenner, her cosmetics company Kylie Cosmetics is worth $900 million, which puts her on track to become the youngest billionaire ever. And she only launched her cosmetics line two years ago. That is an incredible thing to build in such a short amount of time.
Did I mention Jenner's not even 21 yet? She's barely out of her teens and creating an empire. No matter what you think about the Kardashian-Jenner clan, you have to admit that they've made the most of out of their fame. They're all entrepreneurs, and the youngest Jenner definitely learned from the best of them.
You can't shade her for that. Even some Twitter users think so.
"We can laugh at this family all we want and think they're airheads," one person wrote. "One thing is they're smart, savvy and laughing all the way to the bank."
That is most definitely true. They've proven that to their fans time and time again.
So, the term self-made aside, Jenner is doing what she knows best: selling her brand. And she's making history doing it.