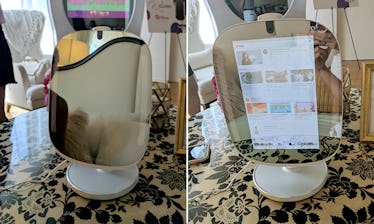 This Smart Mirror Can Show Makeup Tutorials, Play Music, & Evaluate Your Pores (!)
Stephanie Montes
I love a good makeup tutorial as much as the next girl, but I'm yet to perfect the art of simultaneously watching and executing a look from start to finish. I usually set up my laptop next to my mirror, but it takes up way too much room on my vanity, and I need all the space for makeup mess I can get. The HiMirror smart beauty mirror does both (among other things), and takes up half the space. My skin looks good, my makeup looks better, and getting ready has never been so much fun. Here's my review on the HiMirror Mini, AKA the smartest mirror I've ever met.
I was lucky enough to review the first version of the HiMirror a few years back, but it needed some kinks to be worked out. The concept was so cool and I really wanted to like it, but it was too bulky for my small vanity and was a bit glitchy. Over the years, the brand has been improving on that first model, while keeping the ingenuity that caught my eye so much time ago. Finally, I've integrated the mirror into my workspace and my routine — and in case you were wondering, it was worth the wait.
The HiMirror Mini does most of the things the older version does but is smaller and comes with a built-in stand (similar to those LED mirrors that are so popular right now). When the mirror is in smart mode (when it functions more like a tablet than a reflective mirror), it's completely touchscreen, which makes it super user friendly. Just like you would use an iPad or your phone, you can log into your Wifi, respond to commands, and navigate the system with touch. When it's in mirror mode, the light bars on the side turn on and can be adjusted to different light settings, such as outdoors, office, mall, restaurant, and sunset. Have you ever done your makeup in your bathroom mirror, but when you get to work, you realize your foundation shade is all wrong? Me too! Well, as long as I correctly set the light settings, I will never have that problem again.
And here's where things get really good: HiMirror has YouTube built right in, so you can search and play your favorite makeup tutorials right from the device as you create the look on yourself. But if videos aren't your thing, and you prefer to listen to music while you get ready (I know you have a Friday-night getting ready playlist!), the mirror also lets you log directly into your Spotify account. The music plays from hidden speakers at the bottom.
Other apps include Facebook and Instagram, which means you can even scroll through your feed and post photos while you wait for your eyelash glue to dry.
If skincare is more your jam, this the HiMirror mini has some incredible features for you too. Every day, look into the mirror and the built in camera will take a photo of you and provide a full skin analysis. It lets you know everything from changes in dark circles and redness, to hydration, pore size, and even if you get a new mole or wrinkle. Over time, you'll be able to track changes in your skin on a chart. Now, if that wasn't smart enough for you, you can even create a virtual inventory of all your products. In case you're wondering if that expensive eye cream is working or not, HiMirror will give it to you straight every time. If it works, you can splurge on more, if not, you'll thank HiMirror for not wasting your hard-earned cash on skincare that doesn't work.
And speaking of shopping for new products, HiMirror is Amazon Alexa enabled, so the next you're out of mascara, just use the command, "Alexa, order more mascara." She does everything the Amazon device does, so feel free to have her play music, tell you a joke or answer your burning questions about the weather or daily traffic.
So, now that I've got your attention, this is where I tell you how much the HiMirror costs. Don't freak out, it's actually super affordable. The HiMirror Mini will only cost you $119. Cut back on a few Starbucks coffees and you'll have an Alexa-enabled, Spotify-compatible smart mirror sitting on the top of your vanity in no time.