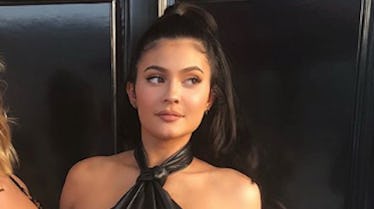 This One Thing May Be The Reason Why Kylie Jenner Removed All Of Her Lip Fillers
Instagram / Kylie Jenner
It is the summer of 2018 and life is changing fast, people! Kylie Jenner got rid of her large and in-charge famous pout some time at the beginning of July and fans are here for it. While her followers are totally down with the change, they can't help but wonder what brought on the decision. Why did Kylie Jenner stop getting lip fillers, especially considering it was "her thing" for so long? According to sources, it might have something to do with having a daughter of her own. Love to love.
Fans first noticed a difference in the cosmetic mogul when she shared a fun picture with her friend Anastasia Karanikolaou on Instagram. Jenner was quick to reveal people were picking up on her smaller lips, admitting "I got rid of all my filler." Now, sources are saying the decision to go with a more natural look may be inspired by her daughter, Stormi. Apparently, having a child of her own has helped ease some of the pressures Jenner was feeling as a young celebrity and has potentially helped her chill out over things like her appearance. An insider told People magazine, "Kylie has been so much more relaxed and natural since Stormi was born," adding, "She's softer in a way. And she's just as busy as ever, but her priority is her daughter." Elite Daily reached out to Jenner's team regarding this report but did not hear back by the time of publication.
I'm not a mom or anything, but I've heard it can really change your perspective on things. (Ha. Ha.) According to the source, motherhood has shifted Jenner's focus off herself in a big way. "She's not spending as many hours as she did before to focus on herself," they said. "And Kylie has never been big on getting dressed up — she's much more comfortable in T-shirts and cozy pants. She feels much more like herself and it's easier, kind of like her mom uniform!"
Speaking of Stormi, Jenner recently got candid about which features she thinks her daughter got from her and which she feels came from Stormi's father, Travis Scott. In a video with her bestie Jordyn Woods, Jenner said she thinks Stormi's lips actually came from Scott, not her.
She explained, "I prayed and prayed that she would have my big eyes, and she has the biggest eyes ever," eventually adding:
The one thing I was insecure about, she has. She has the most perfect lips in the whole entire world. She didn't get those from me. I thank her dad for those.
The truth is, it's particularly noteworthy that Jenner removed her lip filler considering one could argue it's made her so much money. When Jenner first plumped her pout, it was as if the lip liner heavens opened up. The public was desperate to get Jenner's look, which helped fuel the success of her initial lip kit launch. Since then, Jenner has made millions — almost billions — off Kylie Cosmetics. In fact, her success landed her on the cover of Forbes magazine in July 2018. The headline? "America's Women Billionaires." Jenner shared the magazine cover with the caption:
wow. i can't believe I'm posting my very own @forbes cover. thank you for this article and the recognition. I'm so blessed to do what i love everyday. i couldn't have dreamt this up! #KylieCosmetics
Not too shabby.
However, the truth remains that Kylie's focus is on her growing family and not her lips. In an interview for the Evening Standard in May 2018 conducted by older sister Kim Kardashian, Jenner opened up about the changes the come with motherhood. She said,
I think more about the future because of her. Every time I leave and I'm stressed about leaving her, I'm like, 'I'm doing it for you' ... Everyone says you change completely when you become a mom, but I really feel the same, just better. So I don't know what really has completely changed my world, besides her, of course.
Right. Of course.