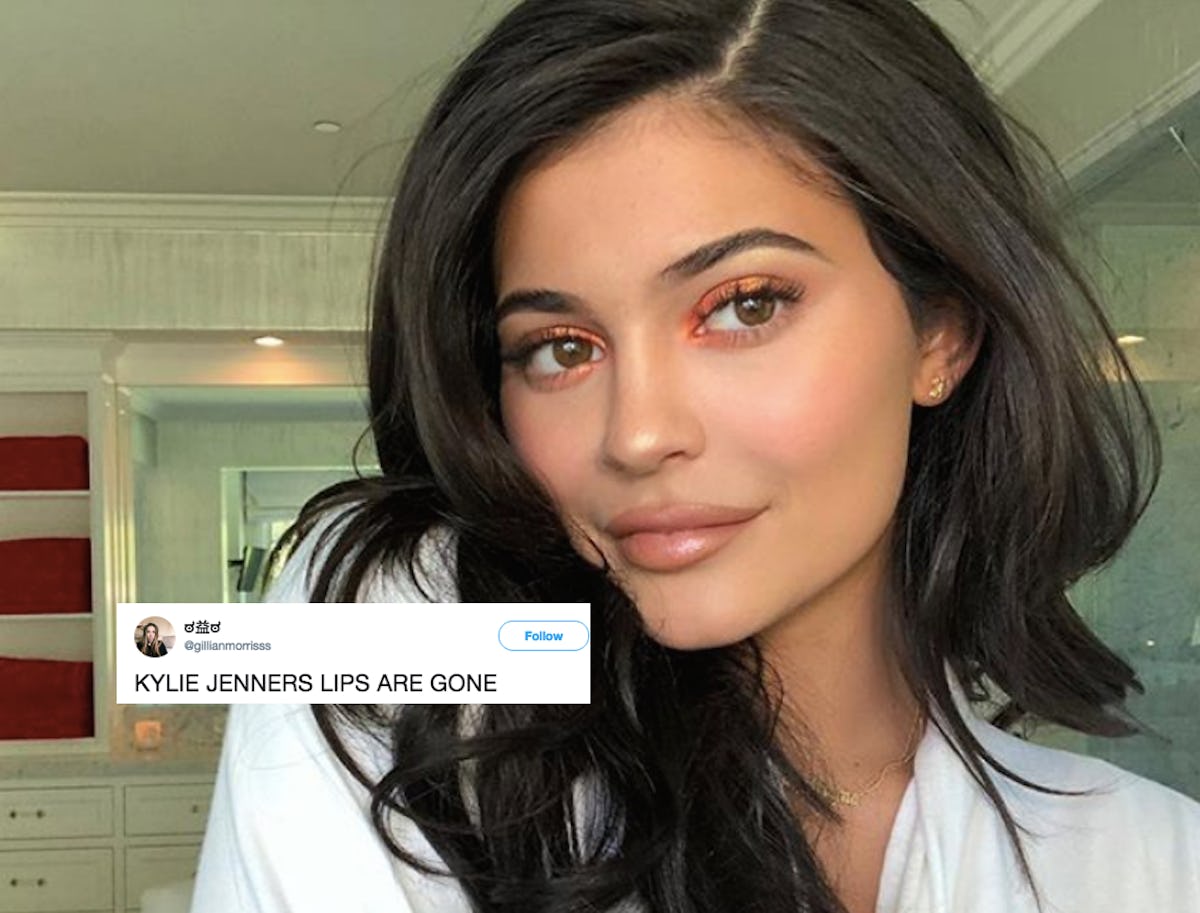 Kylie Jenner Just Removed All Her Lip Filler & Fans Are So Surprised
Kylie Jenner on Instagram/Twitter
Kylie Jenner just made a change that has me genuinely shocked. The makeup mogul's beauty line shot to so much success because she created a product centered around one of her features her fans already obsessed over: her lips. Jenner started getting temporary lip fillers several years ago (though she didn't confirm that fact until 2015), and her lips have become the biggest advertiser for the Kylie Lip Kit brand. But the new mom just revealed she got rid of all of her lip fillers, and the photo of Kylie Jenner without lip filler has fans genuinely shook.
It all started on Sunday, July 8, when Jenner posted two photos on Instagram with longtime friend Stassie Karanikolaou on Instagram. Even I noticed Jenner looked a bit different in the photo, but I honestly thought she had used some kind of face tuning app to trim her jawline or something (no shade, that was just my first thought). Turns out, this photo made lots of people turn their heads. One fan commented on Jenner's post saying, "she looks like the old kylie here idk why." Jenner, in a rare move, responded to the fan and said, "I got rid of all my filler" with two shocked emojis and a smiley face.
Y'all... that is a huge change. Kylie Jenner's lips are as famous as Kylie Jenner herself. For her to remove all of her lip filler... I am shook.
Here's the photo of Kylie Jenner without lip filler.
It's definitely a noticeable difference.
Not a bad one — Jenner can do whatever makes her feel good. It's just a change! She famously started getting lip fillers several years ago and revealed on Keeping Up With The Kardashians in 2015 why she chose to do it. Later, in an episode of Life of Kylie, she got even more real about the decision in a scene where she talked with her therapist. "I was 15 and I was insecure about my lips," she said. Jenner continued,
I had really small lips, and it was, like, one of my first kisses, and a guy was like, 'I didn't think you'd be a good kisser because you have such small lips.' I took that really hard. Just when a guy you like says that... I don't know, it just really affected me. I didn't feel desirable or pretty.
She actually dished on her lips during a recent Q&A with Jordyn Woods on her YouTube page.
Jenner and Woods (who are currently roommates) answered questions fans tweeted at them in a quick video posted on Friday, July 6. One fan asked, "Which one of Stormi's features reminds you most about you and when you were younger?" Jenner responded, "Stormi reminds me, she's my twin. Now she's like, looking a lot more like her dad."
Jenner continued, "I prayed and prayed that she would have my big eyes, and she has the biggest eyes ever." She also said her daughter has her forehead (well, she calls it a "three head") and her ears, then she gets to talking about her daughter's lips. "The one thing I was insecure about, she has," Jenner said. "She has the most perfect lips in the whole entire world. She didn't get those from me. I thank her dad for those."
It's possible that being a new mom has made Jenner re-evaluate her beauty decisions. She's said time and again that her pregnancy was an empowering experience for her and she loves being a mom, so maybe she has a newfound confidence that emboldened her to give removing her lip fillers a try. Or maybe this decision had nothing to do with her daughter since she's not solely defined by being a mother. Whatever the case, the fact that she confirmed the change in her lips so quickly on social media is a sign that she feels more comfortable about her famous lips now.
Fans are shocked by Jenner's decision, but they're supportive of it.
Some people are tweeting things like "she looks so beautiful now," which is a backhanded compliment we should be careful to avoid. Saying she's "beautiful now" implies that she didn't look good before, but "good" and "beautiful" are completely subjective words and the only opinion about Kylie Jenner's lips that matters is Kylie Jenner's. Let's praise the growth and confidence it shows that she made this big decision about a feature she used to be so insecure about rather than saying she looks "better" than before. Kylie, do you, girl!