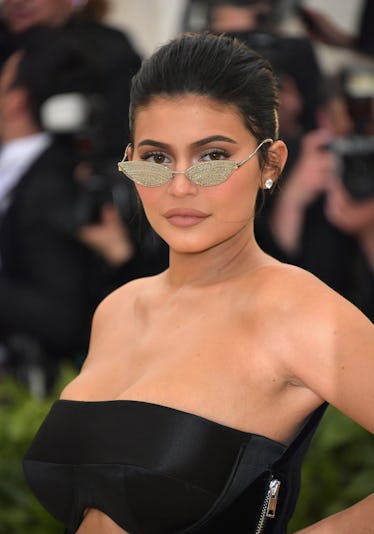 Kylie Jenner Just Said Her Roommate Is Someone Other Than Travis Scott
Neilson Barnard/Getty Images Entertainment/Getty Images
When I think of Kylie Jenner and Stormi Webster, I see days of endless cuddles and lounging around the house with boyfriend Travis Scott. Of course, the reality is probably much different, because Jenner is a beauty mogul who juggles work and her personal life pretty flawlessly. She's probably jet-setting from one thing to another, working on growing her empire even bigger than it already is. And not even that, but Jenner has been very open in the past about how she and boyfriend Travis Scott haven't shacked up, despite having daughter Stormi together. So, what gives? Does Kylie Jenner Live With Travis Scott? While she does have a roommate, it's actually not Travis Scott, so color me impressed.
In her makeup tutorial for Vogue (you know, totally NBD), Jenner reveals that her roommate is none other than her bestie, Jordyn Woods, who gets a pretty sweet deal living with Jenner, because on top of living with her bestie, she also gets to be a guinea pig for all of Jenner's new beauty products.
While Jenner is beating her face to perfection (throughout a whopping 37-step tutorial), she talks about living with Woods, and usually asks Woods to help her out when it comes to testing potential products for her line. In the video, Jenner says:
I test out most of my stuff on Jordyn because we live together, so I'm like, 'Jordyn, I need you.' Everyone that comes in my house has tinted red arms from swatches and shadows.
She also talks about how she didn't always excel at filling in her brows, telling the camera, "I never used to be good at brows. Jordyn always used to do my brows, but then I just kind of learned what I like."
Let me be the first one to tell you, Kylie, that your brows are always on fleek, and your roomie did a great job at teaching you the brow basics.
You can watch the full video below, but I promise that you WILL be sucked into watching it in its entirety because it's just honestly so hypnotizing:
It's almost like Jenner is revealing beauty secrets and, if I follow all the steps properly, I might actually turn into Kylie. But I digress.
Note how Jenner doesn't say a single word about living with Travis Scott, either, so it's possible that it's really just Jenner and Woods, being the coolest pair of BFF's this world has ever seen. I mean, I guess Travis Scott could live with them and it's a Three's Company situation, but that seems unlikely.
And keep in mind that just because two parents aren't living together doesn't mean that they don't give Stormi everything she could ever want or need. Back in February, a source reportedly told People that new parents Kylie Jenner and Travis Scott weren't living with each other, but that things were "going great." The source said,
Kylie and Travis are not officially living together. He has his own place. They are co-parenting though, and things are going great. They are together and happy.
When the subject of marriage came up, the source added that the two had no plans for the foreseeable future. "They're not in rush. They're just enjoying their little family," the source said.
No need to rush it, homies! Just keep living your adorable little life with your beautiful baby girl, and nothing but positive vibes will follow. And, you know, if you want Jordyn Woods to tag along with you, that's cool too.
Clearly, Jenner is living by this mantra, because Kylie Jenner, Travis Scott, and Stormi vacationed in France and brought Woods along with them. On June 20, Jenner posted a slammin' photo of herself looking trés chic on Instagram:
And Woods posted a pic looking similarly magnifique on the same day:
These best buds are living the life, man.
And just throwing it out there: Kylie, if Jordyn is too busy for any of your upcoming trips, just let a girl know. I'm sure I'll find room in my schedule to come jet set around the world with you and be your makeup guinea pig.