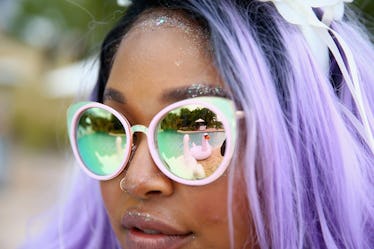 The Summer 2018 Beauty Trend You'll Definitely Want To Try, Based On Your Zodiac Sign
Joe Scarnici/Getty Images Entertainment/Getty Images
We've officially made it to June, which means it's time to ditch your hats and scarves and dunk your head in a bucket of bright color and cover your whole face in glitter! OK, OK, OK, I'm only partially kidding, but not really. Now that we've reached the warmer months, a whole new wave of summer 2018 beauty trends are out there waiting for you. But which one is the perfect one for you? Well, TBH, any of these trends would look f*cking great on you because they're really cool and you're really cool. However, if you're feeling incredibly introspective and in touch with your greater purpose in the universe, your zodiac sign could point you in the direction of the best summer beauty trend for you.
From mermaid makeup to lilac hair to popsicle lips, hair and makeup, trends this summer are all about taking some level of a risk. Whether by embracing every color of the rainbow over your typical neutral palette or by taking the plunge and chopping off your long, flowing locks, there's a daring summer trend out there relative to your zodiac sign. Read on to see how you can change up your ~lewk~ this summer, if you feel like you want to.
Aries (March 21 To April 19): The French Girl
You may be the baby of the zodiac, Aries, but that just makes you even more of a risk-taker. You're not afraid of trying something new, even if it temporarily low-key ruins your life. This summer, think about taking the plunge and trying a new hairstyle — something drastic.
If you aren't afraid of a pretty decent chop, one summer haircut trend to try is the French Girl Cut. Made popular for this season by model Taylor LaShae (and then seen on countless celebs), this French-inspired, bob cut features tousled strands that just graze your neck and a messy fringe falling above the eyebrows. This look requires you to be a bit daring with your style, meaning it has you written all over it, Aries.
Taurus (April 20 To May 20): Popsicle Lips
Yes, I know. Everyone loves food. But you, Taurus? Well, your love for comfort — meaning a good home and good food — is unparalleled, and I'm high-key jealous. Lucky for you, there's a way this summer's beauty trends and your love of delectable food and snacks can go hand in hand.
Popsicle lips are the trend for Taurus. Inspired by the snack of the summer, this trend simply involves creating an ombre lip effect, with a darker color on your inner lips and a lighter color toward the outside. It looks just like you've been sucking on a popsicle. Talk about your face being a snack, amirite?
Gemini (May 21 To June 20): Colored Contacts
Yes, Gemini, your eye color, whatever it may be, is beautiful just the way it is. That's not why I'm saying you should rock the colored contacts trend à la Kim Kardashian. Rather, deep down, you have dual-sided personality. This isn't necessarily a bad thing, Gemini. It just means you possess a wealth of different attributes that come out to play at different times.
Use colored contacts as a way to embrace the side of your personality that you love, but you may not always show the world. If you're a green-eyed girl on the outside, but you're feeling brown-eyed and sultry on the inside, don't be afraid to embrace it.
Cancer (June 21 To July 22): Lilac Locks
Ooooh, Cancer. If ever there were a song title to describe you, it would be "Delicate" by Taylor Swift. (Sorry to anyone who isn't a fan of Taylor Swift; it was the first song I thought of.) You feel so much that, honestly, I'm not even sure how you can stand it sometimes. But you keep it in, and it's about time you express those emotions.
No, no, I don't mean you have to ~talk about your feelings~ (that scares the hell out of me, too), but embrace other forms of self-expression — like your hair! Millennial lilac is taking over the pink obsession you knew and loved. It's a delicate, yet dynamic color, perfectly representing your emotional personality.
Leo (July 23 To Aug. 22): Gen-Z Yellow
Leo, the mighty, mighty lion, you are filled with such bright energy, and your personality shines the brightest in any group. (I'm not a Leo, so I promise I'm not just saying that.) You are fierce through and through, so this summer, combine all of those traits into one trend that's taking off: Gen-Z Yellow.
Bright and sunny, Gen-Z yellow represents you to a T, Leo. Not to mention, it takes a pretty brave person to rock this look. Considering how confident you are, Leo (let's not lie, sometimes to a teensy bit of a fault), you'll have no qualms about rocking a yellow eye look.
Virgo (Aug. 23 To Sep. 22): Sunset Kisses
My dear, strong, dedicated Virgo. You spend your days giving and helping and giving some more and helping some more. You're so focused on keeping the peace around you that, sometimes, you don't take a moment to try something fun, daring — something just for you. In fact, you might even be a little scared of doing so.
Well, enough of that nonsense, because frankly, just do you, boo. It's time for you to sit back and enjoy the sunset... kisses. Yes, this summer, rock the warmer colors of the sunset — maybe a pink eye look or an orange-y/coral lip? If these warm, yet vibrant colors can't help you relax a bit, I don't know what will.
Libra (Sept. 23 To Oct. 22): Princess Peach
You may be all about balance, Libra, but there comes a time where every sign should shake things up a little. That time is now for you, and don't you dare think about fighting me on this. Changing up your normal routine is a good thing! A! Good! Thing!
Now, I know you appreciate the finer things in life, Libra. You're a true princess (in the best way possible) if I ever saw one. So it's time for you try the Princess Peach trend on for size. Peach hair is everywhere RN, my friend. Whether it's a full head of this hue or just some subtle highlights, this fruity trend just keeps getting bigger. If the likes of Paris Jackson, Kylie Jenner, and countless other celebs have tried this hair color on for size, why can't you?
Scorpio (Oct. 23 To Nov. 21): Graphic Liner
Scorpio, I don't have to tell you twice that you are one of the most intense signs of the zodiac, but you get an unnecessarily bad rap. You're not evil or callous. Rather, you just feel so much. Like, so. Freaking. Much. You might even wonder how you're still standing. (I know I do.) You're one of the strongest signs of all, though, Scorpio. You can handle it. You can handle anything.
It only makes sense to pair a pretty intense summer trend with the sign who has a strong personality, right? Right. That's why graphic liner is the one for you, Scorpio. Harsh and angular, yet aesthetically pleasing and engaging, this trend has your personality written all over it.
Sagittarius (Nov. 22 To Dec. 21): Rainbow Brights
Ever the wanderer, Sagittarius, you move throughout the world full of laughter and eager to soak up every experience life has to offer, no matter where it takes you. Your vibrant personality attracts people from all walks of life, which is why you should adopt a summer trend that's as vivid and fun as you are: Rainbow Brights.
While there's nothing wrong with a neutral color palette, the brighter the better is the beauty motto for this summer. Find a way to use almost all the colors in your next makeup look for summer, Sag. People will follow you like they follow the rainbow, and when they find you, they'll get the heart of gold they were after.
Capricorn (Dec. 22 To Jan. 19): Cold Brew Balayage
You're an extremely hard worker, Cap, to the point where everyone except you wants to throw your damn computer out the window. Odds are that you're constantly burning the midnight oil working on some sort of project, meaning you probably drink a lot of coffee to keep yourself going.
Well, if you're gonna be getting your caffeine fix, why not have your hair match your drink? "Cold Brew Hair," a style with a brunette base for the hair and a fresh balayage, is a perfect summer refresher for your hair. The natural swirls and waves of the lighter, caramel-colored strands mimic cream mixing with your cold brew. Needless to say, this look will keep you buzzing all throughout the summer months.
Aquarius (Jan. 20 To Feb. 18): Angelic Alien
Ah, Aquarius. The true, lovable alien of the zodiac. Or at least, the alien-obsessed of the zodiac. You and I both know that, sometimes, your ideas and interests may seem a little, well, "out there" to most people, but that's a good thing. It means you're original and unique.
This summer, embrace your other-worldliness, and hop on the holographic makeup trend. Just like you, this trend is a little out there, but it'll have everyone admiring how bright you shine — just like they do anyway, Aquarius. Whether you want a tiny iridescent shine or a full-on alien glow, the ever-changing iridescent colors of the galaxy suit you.
Pisces (Feb. 19 To March 20): Mer-Maiden
As one of the water signs, you're swimming through life at your own pace, Pisces, making people happy wherever you go. Your ruling planet is Neptune, representative of fantasy, so it makes sense that your head and your heart live in the clouds.
Bring those fantastical ideas that swim around in your mind to life with mermaid makeup this summer. Blues, teals, purples, greens, and glitter await your face, so you can fully embody The Little Mermaid, who is the most accurate depiction of a Pisces I have ever seen. This is your chance to be part of that world, Pisces.