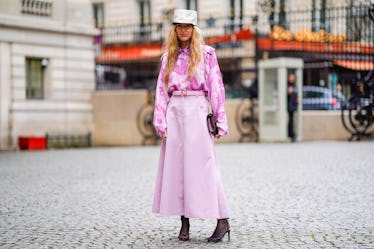 These Are The 6 Colors You're About To See Everyone Wearing This Summer
Edward Berthelot/Getty Images Entertainment/Getty Images
With each new season comes a new batch of hues that absolutely take over the fashion world. And this time, they're lovelier than ever. Summer 2018 color trends are what bright, dreamy, ethereal dreams are made of, so get ready to swap your edgy darks for some super sweet alternatives.
Typically, trending colors are determined by what walks down the high fashion runways for each respective season. This summer, it's no different. But what made the spring/summer 2018 runways so unique was that colors took shape in head-to-toe form across the board. Whereas they typically might appear in the form of a skirt here, a shirt, or a jacket there, this time, they constituted entire looks — and lots of them. Wearing one solid color is in itself a trend this season (think of it as the Canadian tuxedo 2.0), which is even more reason to know exactly which hues you should be eyeing on any upcoming shopping sprees.
If you're into wearing a lot of pastels and various shades of pink, you're in luck. Soft, powder-puff hues are what it's all about for summer, which means you should make like your 2005 self and invest in a healthy collection of pastel denim. If bright, vivid shades are more your style, you'll also be happy. Two of the trending colors will literally blind you.
Soft Lilac
Designers — including Victoria Beckham, Tibi, and Michael Kors — championed this hue by sending models down their runways swathed in the floral shade. To me, lilac is the ultimate ethereal color (for some reason it makes me think of lands "far, far away...") and one I can't wait to try out. I'll be looking for an uber-soft knit tank top to wear with a pair of trending denim and some white-heeled booties.
Bubblegum Pink
Is this 2018's version of millennial pink? Maybe, and I am into it. Celebrities including Emma Roberts, Lucy Hale, and Kim Kardashian West have all embraced the color through beauty as of late by dying their hair a rosy hue, but wearing it is decidedly less of a commitment. To me, pink has been reclaimed as a symbol of female empowerment and strength and I will definitely be wearing it proudly this summer. You can draw outfit inspiration from the spring runways of Lanvin, Marchesa, and Prabal Gurung.
Cinderella Blue
Purple, pink, and blue make the ultimate trifecta. As done by Carolina Herrera, John Galliano, Ralph & Russo, and more, head-to-toe powder blue is also having a moment. This color is especially wearable, as light-wash denim fits into this category. For once, getting the blues is a good thing.
Ultra Violet
Pantone named ultra violet the 2018 color of the year, so it's no surprise that the bright — literally! — hue has found its way onto this list. Championed by brands such as Gucci, Moschino, and Salvatore Ferragamo, it screams confidence and is royal AF. If you're looking to make a major statement, this one's for you.
Sunshine Yellow
I love this color. Looking at it immediately makes my joy level increase exponentially, and it looks amazing when paired with pretty much every other shade on the spectrum. The color of smiley faces, bananas, and sunflowers, sunshine yellow represents some of the happiest and best things on earth, so why not swath yourself in it? If it's good enough for Oscar de la Renta, Tom Ford, and Trussardi, it's certainly good enough for me.
Cherry Red
Bright red will always be a classic. Who doesn't want to look like that iconic dancing lady emoji? It's a color that, to me, represents passion, glamour, and effortless cool — 3.1 Phillip Lim, Alexander McQueen, and Victoria Beckham made it even cooler.