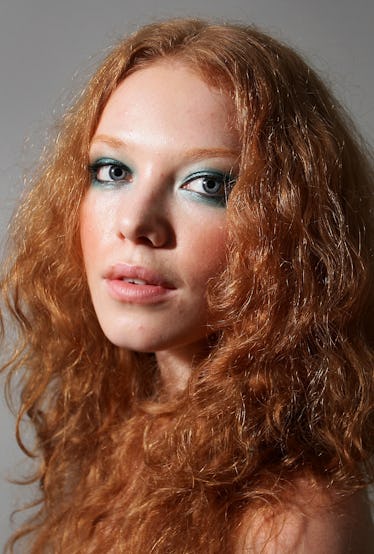 Mermaid Eyes Will Be Everywhere This Summer & They're So Easy To Achieve
Lisa Maree Williams/Getty Images Entertainment/Getty Images
Rejoice! Winter is finally gone! Which means it's time to experiment with makeup looks that are dewy, glossy, and vibrant AF. Begone, muted color palettes and deep berry lips; summer 2018 trends for beauty are here, and they're all about bright colors and fresh textures.
Don't get me wrong, I love a dark lip. I think I wore a deep hue five out of seven days a week in college when I was going through an especially punkish phase style-wise, and every time I see a girl on the street rocking one with a grungy dress and combat boots I visibly swoon. The thing is, I've seen them so much as of late (there's no denying they are great for cold weather months) that I am very ready to usher in a new type of beauty look (or five) that is decidedly sunnier. And thankfully, it looks like the beauty industry and beyond is ready for that too.
Based on the makeup looks that reigned supreme on the top spring/ summer 2018 runways, as well as newly released products by brands such as NYX, Glossier, and BH Cosmetics (brands that set the trends), high-gloss, glitter, vivid pigments, and playful techniques are what it's all about this year. I chose three of the coolest and most wearable trends for you to draw inspiration from for your summer face because trust me, they will be everywhere.
Popsicle Mouth
Have you ever eaten a cherry or strawberry popsicle and wished you could get that same faded lip stain the icy treat leaves you with anytime, anywhere? For their spring show, Philosophy sent models down the runway with a high-gloss version of that exact look. It's bright, juicy, and super easy — all you need is two products and two minutes and you can recreate it on yourself. Start off with a lip and cheek stain like Benefit's Gogotint Cheek & Lip Stain ($30, Sephora) and apply it along the inner part of your lips, where they touch. From there, use your finger to blend it out towards the edges of your lips, allowing a fade effect to happen naturally.
The best part about this look is that you don't want it to look perfect — crisply drawn on lips are not your goal. After the stain has set in for a minute, grab a high-sheen lipgloss like Glossier's Lip Gloss ($14, Glossier) and apply it over the stain. Et voila! You've perfected the popsicle pout. If you want to just eat popsicles to get the stain you can totally do that, too.
Mermaid Eyes
From Tadashi Shoji and Marni to Chanel and beyond, aquatic-inspired eyeshadow was all over the spring runways. Though it varied in shade and technique — some eyes got a full on cobalt lid while others were dusted with various shades or shimmering turquoise — there's no doubt that the ocean-y eye is having a major moment. Thanks also, in part, to Kim Kardashian West, who launched a new shadow palette with makeup artist Mario Dedivanovic that features an electric blue shade. If the KKW x Mario 10-Pan Eyeshadow Palette ($45, KKW Beauty) blows your budget, try going for Kat Von D's Metal Crush Eyeshadow ($11, Kat Von D Beauty) in "Paranoid" instead.
Silver Linings
Traces of glinting silver were found around the eyes of models on a myriad of runways, cementing its status as the futuristic makeup trend du jour. It manifested in many forms, from geometric metallic liner at Natasha Zinko and twinkling sequins-cum-eyeshadow at Francesco Scognamiglio, to shimmery face jewels at Jeremy Scott and glittered smoky lids at Alberta Ferretti. Try rimming your eyes with Urban Decay's Heavy Metal Glitter Eyeliner ($20, Sephora) for a similar effect and remember to get creative it with.