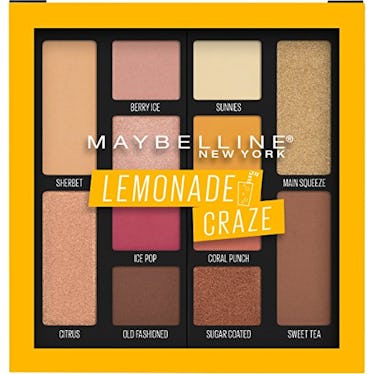 Maybelline Is Dropping A $10 Palette That Actually Smells Like Lemonade & It's Peak Summer
Amazon
Maybelline is paying homage to perennial summertime favorite with their latest buzzy drop. The brand is known for launching trendy collaborations with the likes of Gigi Hadid, but right now, it's the so-summer-it-hurts Lemonade Craze eyeshadow palette that's causing a major buzz. Before you get your credit card ready, you may be wondering how much is Maybelline's Lemonade Craze eyeshadow palette? The formula actually smells like lemonade, so I'm willing to pay anything for this scratch and sniff goodness.
Back in February, Maybelline teased a surprising palette drop, with shade names paying tribute to some of our favorite summer beverages. The yellow packaging screams spring, but my favorite part is the eyeshadow colors. With names like "Sweet Tea," "Old Fashioned," "Main Squeeze," and "Sherbet," I need it to be summer right now. The palette features 12 metallic and matte shades that will turn any daytime summer look into a rooftop worthy night-out moment. When you get your hands on Lemonade Craze, you're going to forget that you've been freezing all winter.
Many of the launches coming out in the next couple of months feature colors like bright greens, purples, and blue, but the Lemonade Craze palette veers far more towards wearable neutrals and warm tones. Whether you need a small palette to throw in your weekender bag, or your friends are not keen on waiting for you to complete a 45-minute face beat, you need to snag this before it launches. It's currently available for pre-order, and it's a number one bestseller on the Amazon site.
My favorite beauty account, @Trendmood, tipped me (and 800,000 other followers) off to the fact that Maybelline changed their launch date. Initially, Allure reported that the launch would be in July, but Trendmood leaked that Maybelline and Amazon were offering the product earlier than expected. Maybelline has now officially announced that US-based customers can pre-order the palette on Amazon. If you're wondering if you should pick this up, I give it three thumbs up.
There's a bright berry pink shade called "Ice Pop" that will look vibrant if you smudge it on your waterline. Or if you're feeling bold, apply the color all over your lid. "Coral Pop" and "Strawberry Lemonade" scream rosé season, and the palette's standout poppy yellow shade "Lemonade Craze" is the color for the spring/summer season.
On the back of the packaging, Maybelline also offers three signature look tutorials to create with the 12 shades. The signature makeup looks are called "Lemonade Pop," "Pink Lemonade," and "Peach Lemonade."
Allure beauty reporter Devon Abelman noted that she could smell the lemon scent the brand added to the shadow. The smell is supposed to be on brand for the palette, but I feel #blessed that Maybelline thought of the customers. There's nothing worse than a smelly makeup product, but I can get down with smelling like a lemon. She also made note that this is the first time that Maybelline New York has listed the individual shade names on a palette.
While yellow may be a Gen Z staple, I've been firmly in the millennial pink camp for years. Yellow typically isn't on my radar, but I'm starting to get sucked into the trend. Even makeup artist Thomas de Kluyver reached for the palette backstage at Jason Wu during New York Fashion Week.
Maybelline New York's Lemonade Craze Eyeshadow Palette ($11, Amazon) doesn't have an official launch date, but if you pre-order through Amazon, the item will be shipped come April 13. Stay tuned to the Maybelline Instagram for the global launch dates. And if you don't caption your palette flatlay or yellow eye look "I pull up with a lemon," please don't talk to me.