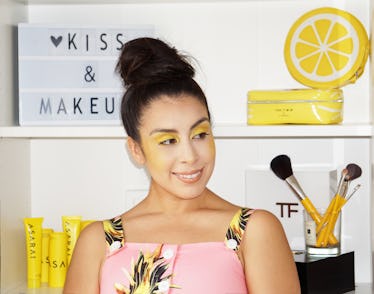 Gen Z Yellow Is The New Millennial Pink, So I Tried Wearing It All Over My Face
Stephanie Montes
A few months ago, everything from makeup to clothes and even home appliances simply needed to be Millennial Pink. Being a millennial myself, I totally bought into the color craze, but there's a new hue (one that technically doesn't represent me at all) I'm currently feeling: Gen-Z Yellow makeup. It's a poppy and cheery shade of bright yellow and just like Millennial Pink, this color craze is spreading like wildfire. It all started with a catchy name, and all of a sudden, you can now find literally everything colored in the poppy lemon-yellow shade.
Being the beauty junkie that I am, I figured why not try the trendy new shade in the most unexpected way? I sifted through my vanity for any trace of yellow and I came up with multiple eyeshadow palettes that featured the color of the moment. After challenging myself to get creative with my eye makeup (and even swiping on the citrusy shade on my cheeks!), I can't believe how wearable it actually is. I think I found my new ~lewk~, and I'm not even close to being a part of the younger Gen Z, which includes people born in the late '90s and early '00s.
You can't deny the sunny shade just screams "I'M YOUNG AND FUN," so maybe if I wear enough of it on my face, I can look like I was born after 1995? OK, so that might be a stretch, but whatever, I'm super into the color.
To create this look, I used a pale yellow cream eyeshadow stick all over my lids (from lash line to brow bone), then brushed on powder shadow in a similar color to work as my primer and base. With a golden-yellow shadow and a fluffy brush, I blended the shade into my crease and lightly onto my brow bone. With the same shade, I used my finger to pack on tons of color onto my lid (from the crease to my lash line).
Pro tip: using your fingers, rather than a brush to apply shadow gives you the maximum amount of pigment. To give the look some dimension, I added a gold glitter shadow in the inner corners of my eyes and a pale yellow shimmer on my brow bone along my arches. See below for the exact products I used (some are on the more expensive side, but any similiar shades will work).
To complete my makeup look, I made sure to keep everything super monochromatic and I think this is what makes it feel so cohesive. My contour is a warm shade of tan and the highlighter I used is a pretty shade of gold. Using anything too silver or cool toned will completely throw off the look. I finished with a nude lipstick and even topped it with a gold-shimmer gloss. That way everything ties together with their gold undertones.
In order to get my cheeks in on the fun, I swapped my usual go-to pink blush for the same yellow eyeshadow I have on my lids. While at first I thought it would look strange, the look actually grew on me. So, it's not the average makeup look and I don't recommend wearing it to Monday-morning meetings (I guess depending on what you do for a living), but it's a fun look to get you out of your boring every-day makeup rut.
I went into creating this makeup look thinking I would look like a banana (like, not in the good yummy way), but I'm so happy with how it turned out.
Like every unexpected trend, you never know how much you will like something until you try it. Break out those unused yellow eyshadow shades you have hiding at the bottom of your vanity and put them to good use.
Trust me, you'll be glad you did (even if you're not a Gen Z youngin').