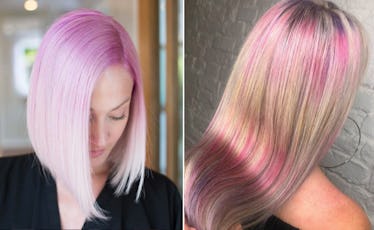 Millennial Lilac Hair Colors Are Taking Over Instagram & They're Like Frosé For Your Eyes
I was way more adventurous with my hair color in college than I am now. I tried out hot pink ombré (don't ask for photos), an all-over ultralight rose, strawberry blonde highlights, and full-on platinum. My favorite style, though, was my millennial lilac hair, which back then, in 2013, was simply called "light purple." Featuring dusty gray undertones and beautifully glossy glaze, it was at once ethereal and edgy and made me feel like both a comic book heroin or a badass villain, depending on how I dressed. It rocked.
It appears that I was about five years early in deciding to go purple, seeing as millennial lilac is now all the rage for, well, everything. From shoes and dresses to makeup and even drinks, if something is created in that specific color on the spectrum, 2018-ers want it.
Thanks to the genius of colorists (read: wizards) that I can't even begin to comprehend, hair dying techniques have reached a whole new level these days, allowing color techniques like opal and rainbow prism to be accessible to the masses. Getting fairytale hair has never been easier, and in honor of the most ethereal color of all, I put together a roundup of the coolest dye jobs out there that involve millennial lilac hair. Pick your favorite below and go all-in with the trend.
Taro Bubble Tea Hair
If you've ever had taro flavored bubble tea, then you're probably familiar with its cool, grayish purple hue. It's the shade I went for when I went lilac and it's here in full force. Allure spoke with stylist Yokii Techi of Be Scene Studios to find out how to get the perfect dusty purple shade. First, Techi starts off by toning pre-lightened hair with a silver hue. She then brushes on a mixture of Pulp Riot's Mercury (silver), Blush, and Lilac. "Anyone with healthy virgin hair can achieve this in two separate hair sessions," Techi tells Allure, with the first session being for bleaching, the second for the addition of the color.
Smoked Velvet Hair
A decidedly darker take on the purple hair trend, smoked velvet hair boasts shades of ultraviolet and, when caught in the light, deep lilac, all in one textured dye job. To achieve the look, stylist Ahn Le, also of Be Scene Studios, starts off toning her clients' hair with a silver shade. From there, she paints on a combo of Pulp Riot's Smoke (graphite), Velvet (grape), Lava (neon orange), and Clear. As Le told Allure, the entire process can take three to four hours—you've got to be committed to want this shade!
Pink Cloud Hair
Don't let its name fool you—this hair trend is infused with various shades of lilac as well as pink for an uber ethereal look. Think of it as pastel colored highlights, just in chunkier, thicker streaks. As explained by Allure, "The key to pink cloud hair is its delicate streaks of color: it's not about a full head of pastels, making it a good way to ease into having pink hair." The streaks of color will also naturally fade over time, allowing the dye job to go from being uber bright and pigmented to having a more washed out and sun-bleached look. I think it's the perfect choice for music festival season and beyond.
Blondes can test drive the lilac trend without commitment, while darker hair colors will require highlights or a bleach job first, if they want anything more than a slight purple tint. Anyone with light hair (allover or pieces) can experiment with Overtone Pastel Purple Deep Conditioner ($28; overtone.com). The longer you leave it on, the deeper your lilac, but since it's a color-depositing conditioner and not actually a dye, it'll wash out entirely after a few washes.
And there you have it! There are a myriad of different ways to incorporate lilac into your locks out there, so go with whichever one feels most authentically you — or most authentically your inner superhero-slash-badass who is waiting to come out. Purple power.