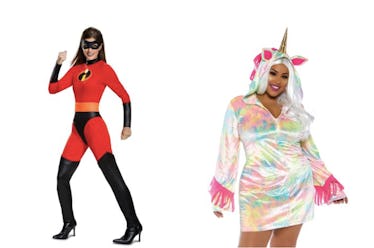 Walmart's Halloween Costume Selection This Year Is Prime & These 6 Picks Prove It
Courtesy of Walmart
Hyped for Halloween, but don't have time to shop for a costume? I feel your pain, believe me. When it seems like you're going a mile a minute, the last thing on your mind is finding time in your busy schedule to play dress-up. Fortunately, I've rounded up my top six Halloween costumes from Walmart that you can scroll here with ease — no fitting rooms or long register lines necessary. My online shopping habit has allowed me to scour the internet high and low for the year's best Halloween deals, and for 2018, Walmart's really stepped up their game, with a ton of cute costumes just begging to be added to your cart.
In my eyes, a costume needs to function in one of two ways for it to be a solid choice. Since we aren't all DIY pros, a lot of us need something that will look good straight out of the bag, which is my first requirement. The second requirement, though, is that it can be enhanced with extras afterwards, should I choose to do so. What's the point of a fun skeletal bodysuit if it won't look good with that skull makeup look I have bookmarked on YouTube? Exactly. Below, I've found the best costumes from Walmart that, while great picks when worn on their own, can also be amped up for next-level results, should you feel like getting creative.
Skeleton Catsuit
Catsuits might seem daunting, but really, aren't they just form-fitting onesies? Comfort alert! A skeleton catsuit is the easiest costume of all, since it's an all-in-one lewk. Even more, this particular option glows in the dark, so yeah, you'll definitely be the coolest of all the skeletons at any given Halloween party. If you wanted to do the most, you could channel your inner makeup artist and go for a skeletal smoky eye to really take it to the next level. Either way, the Glow In The Dark Skeleton Catsuit Adult Halloween Costume ($37, Walmart) is a great pick, available in sizes small through extra-large.
Mrs. Incredible
Now that the long-awaited The Incredibles 2 movie is finally out, Mrs. Incredible, aka Elasti-Girl, is an awesome costume option. She's badass enough that she's a strong solo option, but if you're out with a group, convincing them to be the other superhero members of the Parr family will only enhance your costume even more. (And, of course, Walmart has those costumes, too!) We all know bob hairstyles are big this season, so if you're one of many rocking short hair this Halloween, you're already halfway there to pulling off this Incredibles 2 Mrs. Incredible Classic Adult Halloween Costume ($21, Walmart) available in sizes small through large.
Cleopatra
Remember that thing I said about bobs and lobs being super popular haircuts this season? Well, guess who was not only Queen of the Nile, but also Queen of the Sleek, Shiny Lob? Cleopatra, that's who! For those of us who aren't trying to freeze to death in a super short costume but still want a sexy vibe, Cleo is the ultimate cool-girl pick. The Cleopatra Adult Halloween Costume ($25, Walmart) is available in sizes small through large, as well as a plus size option for sizes 16 through 20. It comes with not only the white dress and blue cape, but also the collar, belt, wrist cuffs, and headpiece, so you're getting a lot of bang for your buck. Pair it with your best winged liner to really look the part, and you're all set!
Rosie The Riveter
Cleopatra isn't the only strong, brave woman I'm stanning this Halloween (other than, you know, all women). Ladies and gentlemen, a round of applause for Rosie the Riveter! Not only is this costume a fun nod to feminist history, but it's also a really adorable romper, not to mention an excuse to flex your biceps in photos. (OK, fine, I don't have biceps.) The Rosie The Riveter Adult Costume ($20, Walmart) comes in two sizes — small/medium and medium/large — and it comes with a headscarf so you can do your thing and create a cute little updo to finish off this lewk.
Cher from Clueless
TBH, so many of us are channeling '90s vibes in our everyday attire, so it only makes sense that Cher's yellow plaid ensemble would be a popular pick for this year's Halloween costume options. The Notionless Adult Costume ($46, Walmart) comes in sizes small through large and includes the blazer with the attached yellow button-down vest and the matching plaid skirt. If you're really trying to channel Cher vibes, throw on some knee socks and a blonde wig and perfect your RBF. Voila!
Unicorn
Didn't get a chance to try out that unicorn makeup look for last year's Halloween party? It's not too late! Unicorns are still as trendy as ever in 2018, and even if you choose to buy your costume, you can use your makeup to personalize it and stand out from the crowd. I love the Leg Avenue Women's Unicorn Costume ($33, walmart.com) not only because the dress gives me unicorn-hippie vibes, but also because the sizing is super inclusive: It's available in not only small through large, but also in two plus size options — one in 1X-2X and the other in 3X-4X. Everyone should be able to be a unicorn! And if you're down with the uni makeup, but don't feel like a minidress is the move, the Unisex Unicorn Onesie ($29, Walmart) is an equally cute, extra comfy option.
I've gotta give some much-deserved props to Walmart, because this year's costume selection is what Halloween dreams are made of. There are dozens of other costume options on their site for you to peruse, but if you need to make a snap decision, any of the above are strong picks to ensure you show up to your Halloween soirée in style.