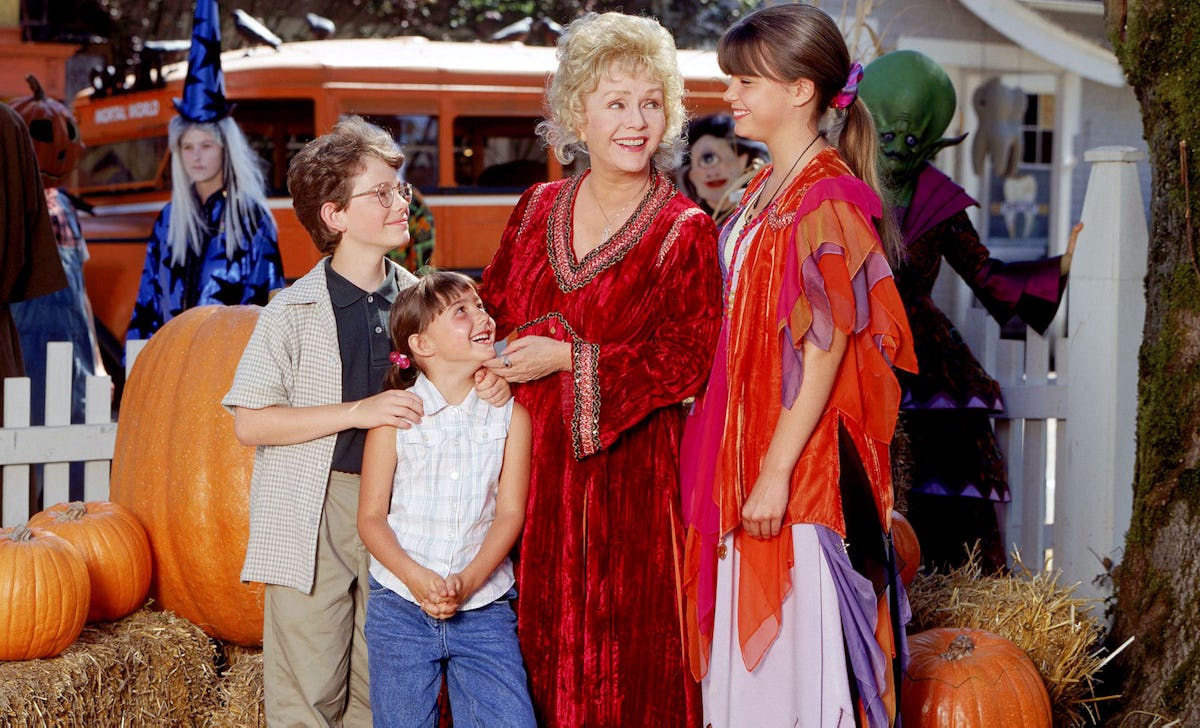 These DIY 'Halloweentown' Halloween Costumes Will Make You Channel Your Inner Witch
Disney
Halloween is a time for costumes, candy, and your favorite spooky movies. Everyone has their own favorite Halloween movie, but for a whole generation of kids that grew up on Disney Channel Originals Movies, nothing can ever come close to Halloweentown. The Disney film series chronicles the young witch Marnie Piper as she discovers the magic-filled realm of Halloweentown, which opens up only on Halloween. The four movies are also filled with instantly recognizable characters that make perfect Halloween costumes, so you should definitely try out these DIY Halloweentown Halloween costumes this year to pay your respects to the Cromwell witches.
The Halloweentown saga consists for four movies that were released between 1998 and 2006 on Disney Channel (although, the final movie Return to Halloweentown is a bit controversial since it recast Marnie Piper). The bewitching film series is all about the eponymous land of Halloweentown, a magical realm that exists parallel to the mortal realm, only briefly overlapping during Halloween. As the young witch Marnie finds and begins to explore this land, she meets a ton of creatures and characters that are now iconic among the movies' fans. If you want to get your Halloweentown on for Halloween this year, then try out these costume ideas:
Marnie Piper
Transforming yourself into Marnie Piper's iconic witch costume is actually really easy to do with only a few materials. All you really need is a purple robe, a witch's hat, some silver felt, scissors, and a hot glue gun. You can find a cheap purple robe to use at most stores or online (the one pictured costs $17.50 on RobeMart.com), and a witch's hat is super easy to find anywhere around Halloween (the one pictured costs $6 at H&M).
Once you've got the robe and hat, grab some silver felt from a fabric store and cut out a bunch of stars and crescent moons. Hot glue the felt shapes wherever you want on the hat and robe, and you are ready to take a trip to Halloweentown.
Aggie Cromwell
One of Aggie Cromwell's most memorable Halloweentown outfits is also not too difficult to do yourself. If there is one piece of clothing that Aggie is known for, it would have to be her red velvet cloak. Really, it is just a large piece of red velvet fabric, which you can get a roll of relatively cheaply at your local fabric store. Now, you could just be content fashioning the red velvet into a cloak, or if you have some basic sewing skills, you can also buy some gold velvet trim at the fabric store as well.
Once you have your Aggie Cromwell cloak, you'll need a wig to really show people that your the head witch in charge. The light blonde wig pictured above is available on Amazon for $18.99.
Benny
One of the best beloved characters in the Halloweentown franchise is the skeleton chauffeur Benny, and you can transform into him very easily and cheaply for Halloween. All you really need is some white and black face paint (Spirit Halloween sells a small palette for $4) and a chauffeur's hat (the one pictured costs $9.40 at Walmart). Simply paint your face to look like a skeleton, pop on the cap, and voila: instant Benny!
Natalie the Pink Troll
As with Benny, you can also easily become Natalie from Halloweentown High with some face paint. Party City sells pink face paint for only $1.50. Along with that, you are also going to need a pretty big pink wig. It won't be easy to find a pink wig that's already heavily teased like Natalie's hair, but you can actually do it yourself with a long pink wig, like the $36 one pictured from Light in the Box. Just keep back-combing the straight wig until it becomes fluffy, and then hit it with enough hairspray so that it will stay that way.