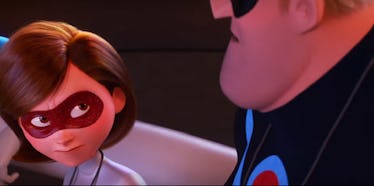 There's A New 'Incredibles 2' Trailer & It's Packed With Action Footage Of Elastigirl
Walt Disney Pictures / Pixar
Since the original Incredibles film debuted in 2004, a focus on female-centric stories has definitely emerged and flourished. While I'm not very up-to-date with current kids' programming, I like to believe that today's young girls are growing up with amazing role models from the TV and film geared towards them. The new Incredibles 2 trailer proves that Pixar is totally on board with these girl-power stories, as the sequel focuses on Helen Parr, aka Elastigirl, reentering the superhero workforce while her husband Bob, aka Mr. Incredible, becomes Mr. Mom at home. Work, Elastigirl!
Hitting theaters on June 15, Incredibles 2 begins where the first film ended, but soon dives into Helen's adjustment to being a full-time Super again. She's recruited to join a campaign that seeks to reintroduce Supers to society, and while Helen seems to thrive as Elastigirl again, Bob struggles with running the household and dealing with Baby Jack-Jack's newfound superpowers. The other Parr kids, Violet and Dash, also struggle with their mother not being around as much. Beloved secondary characters, such as Edna Mode and Frozone, aka Lucius, appear in the new trailer as well, reassuring fans that so much of what they loved about the first movie is present in the sequel.
While the Incredibles 2 plot initially sounds like a 30-minute sitcom episode, there obviously has to be a bump in the road at some point. The Supers' new mission is suddenly endangered when a new villain appears, leading to the Parr family joining together to ensure peace in the community.
Bringing back the original Incredibles writer and director (and voice of Edna Mode) Brad Bird, the sequel has also enlisted Incredibles voice actors Craig T. Nelson, Holly Hunter, Sarah Vowell, and Samuel L. Jackson to reprise their characters. Among the new cast members are Catherine Keener, Better Call Saul's Bob Odenkirk, and, as an adoring Elastigirl fan, One Tree Hill's Sophia Bush. According to The Hollywood Reporter, her character, Voyd, is an aspiring superhero who literally creates voids into which objects disappear. Let's hope that the sequel isn't pulling a Syndrome and making Voyd the secret villain, but in true female fashion, I'd bet that Elastigirl willingly mentors Voyd rather than sending her away to become a supervillain.
While technology has vastly improved in the 14 years since the original film, director Bird hinted that revisiting the characters only meant finding better versions of their familiar world. According to The Hollywood Reporter, at the Disney fan convention D23 in 2017, Bird said of the sequel:
It's fundamentally a story about family. The technology has gotten so much better; we can get them close to what we wanted to do in the [original]. It's like driving a better car.
When the film's first tease was released in late 2017, Hunter, who was most recently seen in the heartfelt hit The Big Sick, spoke to Entertainment Weekly about reconnecting with Elastigirl in a new kind of position:
Helen's appetite for adventure comes to the fore. Whereas before, she was driven to become Mrs. Incredible out of necessity, where she went into it to save her husband, I think this time she really meets her own ambition head-on. The ambition of being an adventure is something that we get to explore... It's so much fun to see a woman luxuriating in those two arenas, because women have for so many generations been brought up to not be ambitious or to not be competitive, and it's fun to see Helen basking in those two arenas in much the same way that we give men license to do.
I'm so ready for Elastigirl to become a new feminist hero, and her adventure in Incredibles 2 looks like a perfect foray into that territory. Who doesn't want to dramatically smash through a window without a single hair flying out of place?
Incredibles 2 is in theaters beginning June 15.