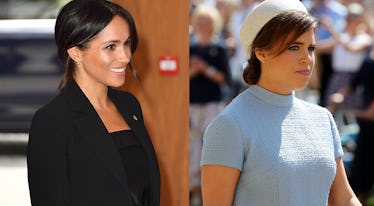 Meghan Markle & Princess Eugenie Might Have Opposite Senses Of Style, But Both Always Look Incredible
WPA Pool/Getty Images Entertainment/Getty Images; Jeff Spicer/Getty Images Entertainment/Getty Images
Can we take a moment to appreciate the fact that practically every young royal gal has incredible, impeccable style? And what's more, they all have their own personal tastes and preferences — despite the fact that there are tons of rules and protocal to follow, these girls are hardly wearing uniforms. When Meghan Markle's engagement to Prince Harry was first announced, people immediately began to compare Markle and Kate Middleton, but lately, I've been paying close attention to Princess Eugenie's Fashion Compared To Meghan Markle's, especially considering Eugenie is the latest royal bride-to-be.
For those of you who aren't up to date on the royal family tree, know that Princess Eugenie, unlike Middleton and Markle, isn't the one marrying into the royal family — if the title "princess" wasn't obvious enough, she is the royal, thank you very much! And while Markle and Eugenie are both gorgeous, intelligent ladies, they're also total fashionistas, seated on opposite ends of the style spectrum. Markle always looks effortless and casual-cool, while Eugenie's personal style is far more put together and tailored. In less of a who-wore-it-best way and more of a celebrating-two-stylish-ladies way, let's take a look at the differences and similarities between the two.
When it comes to makeup, the duo are actually pretty similar. Both love subdued, natural makeup looks, so don't expect graphic liner or statement lips from either one. Regarding their hair, however, the two are alike only in that they're brunettes. Markle's hair is super long and almost-black brown, while Princess Eugenie's hair is a reddish auburn brown, usually kept at lob-length.
First of all, let's talk updos: As we all know, the iconic Meghan Markle messy bun is tousled, unkempt, and oh so chic:
A born-and-bred royal, Princess Eugenie's updos are much more polished and clean — not to mention, often accessorized by a statement headpiece:
When Markle does go for a more sophisticated hairdo, she opts for sleek, stick-straight strands, which have become her go-to as of late:
But when Eugenie lets her much shorter auburn hair down, it's almost always in tidy curls, a far cry from messy beach waves and the like:
Princess Eugenie does occationally opt for a straight look, too, but she never looks like she forgot to turn her flat iron off before leaving the house, if you know what I mean. Her straight strands always look like the result of a fabulous professional blowout, complete with rollers to round out the ends and emphasize the volume.
Markle is messy bun goals, no doubt, but Eugenie is total blowout goals:
Onto their clothes: while we've watched Meghan Markle's style evolve heavily over the past year or so as she transitioned from girlfriend to fiance to Duchess of Sussex, she's managed to pull off each persona's fashion choices effortlessly, but has finally settled on her official lewk.
Markle, unlike lots of other female royals, is a huge fan of pants, which really lends itself well to her effortless, cool-girl vibe:
She's also a huge fan of neutral, subdued colors — black, tan, and navy are her most-worn shades:
IMHO, this neutral trenchcoat-inspired dress was one of her all-time best looks, if you were wondering:
And if Markle does opt for color? It's never a pattern or print, always one bold statement shade, like this blue dress that's a far cry from her navy safe space:
While Markle enjoys pants, neutrals, and patternless looks, Eugenie is the complete opposite. Rarely seen in anything other than a dress, Eugenie loves bold shades and fun patterns, and she totally pulls them off.
Eugenie makes even the boldest patterns seem wearable:
She's never shied away from a bold print, and her OOTD recipe of "fun pattern + chic dress silhouette + high heels" is a must-copy for fall events:
Even when she opts for black, you can bet there's a little something spicing it up:
Last but not least, it's time to discuss the accessories. Markle's are always the simplest nude or black heels and clutch, and when she dons a British hat or fascinator on public occasions, they're usually as subdued as possible, matching the rest of her ensemble. Princess Eugenie, on the other hand, loves a hat moment, and always goes for statement pieces that amp up the rest of her look.
She how Markle's headpiece, while beyond gorg, blends right in with the rest of her monochromatic look?
Yeah, Princess Eugenie can 👏 not 👏 relate 👏 to the subtlety:
And when she does go neutral? She still makes a statement. She literally has a black hat adorned with a pom-pom veil and the word "Love," so all other statement access can pretty much take a hike:
I don't know how we got blessed with two unique fashion icons (three counting you, Kate Middleton!) in one royal family, but I'm so glad we did. Meghan Markle and Princess Eugenie look nothing alike and come from totally different backgrounds, and yet both still carry themselves with class, poise, and respective great senses of style. Yes to more fashionable, iconic women! And TBH, I wouldn't mind if Princess Eugenie loaned Markle some of her iconic statement headpieces, because I know she'd rock them, too.