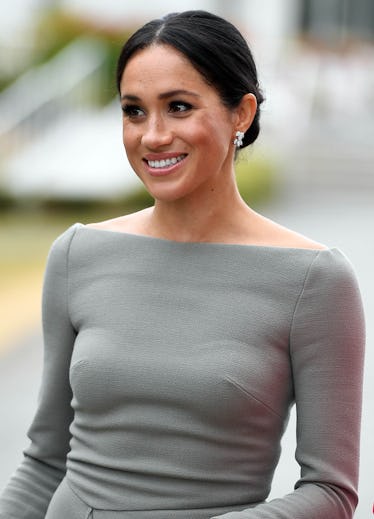 Meghan Markle Wore FIVE Outfits in Two Days & They're All Straight Fire
Pool/Getty Images Entertainment/Getty Images
No outfit repeaters here! Meghan Markle is embracing her royal title by dressing the part, and then some. The Duchess of Sussex has been on a whirlwind sartorial tour the past couple of days, in particular. Beginning in London and then hopping across the Irish Sea, Meghan Markle's Ireland outfits have been numerous, and each one is better than the last.
If you think your schedule is busy, wait until you here what Markle's been up to the past two days. Prince Harry's wife, and the rest of the royal family, attended a ceremonial flyover for the Royal Air Force (RAF, for short) in London on July 10. That afternoon, Markle and her hubby popped over to Ireland for their first appearance on their royal tour of the country. The following day, on July 11, Markle and Prince Harry showed their beautiful faces at three different events, and Markle (rightfully so) wore a different outfit for each one.
Royal expert Omid Scobie announced that Markle had her stylist, Jessica Mulroney, help her pick out all these outfits. The duchess has thousands (if not more) photos taken of her whenever she steps out the door, if that were me, I'd want some professional help, too. Take a look at all of Markle's #lewks below!
1. July 10: London, England
The Royal Air Force centenary flyover was to celebrate the organization's 100-year anniversary. Markle stood with the queen and the rest of the royal family to watch the country's finest pilots fly overhead in the shape of the number 100. To the prestigious occasion, Markle wore a custom-made Dior dress, as well as beige heels and a black clutch, also both from Dior. Her look was topped off (literally) with a Stephen Jones fascinator.
2. July 10: Dublin, Ireland
Upon arrival in Ireland, Markle wore a green look — how fitting! This outfit was a Givenchy pencil skirt in a custom color with a matching sweater from the same label. Markle wore brown suede Paul Andrew pumps, carried a Strathberry Midi Tote in Tan ($675; strathberry.com), and sparkled in Vanessa Tugendhaft diamond earrings ($875; vanessa-tugendhaft.com).
3. July 10: Dublin, Ireland
For her third outfit on July 10, Markle sported a custom black Emilia Wickstead dress to an Irish garden party. There's been some drama surrounding Wickstead as she claimed Markle's wedding gown was a knockoff of one of her own designs. Wickstead later apologized for her comments, though, so I'll consider this outfit choice a peace offering.
Markle also rocked black Aquazzura Deneuve Bow Pumps ($750; nordstrom.com) and carried a black Givenchy Satin Clutch ($1,990; givenchy.com); her earrings are Birks Muse Citrine and Diamond Drop Earrings ($3,475; maisonbirks.com).
4. July 11: Dublin, Ireland
July 10 was a busy day for Markle, but she didn't slow down much on July 11, either. To start her day, while meeting with the President of Ireland and his wife, Markle wore a gray Roland Mouret dress, which was a very similar style to the blue Roland Mouret dress Markle wore before her wedding ($2,165; orchardmile.com). She definitely has a few favorite designers. The duchess wore her dress with another pair of Paul Andrew pumps, and for part of the day carried a Fendi Peekaboo Essential Handbag ($6,500; fendi.com).
Markle put the finishing touches on her classy look with a pair of Birks Snowflake Snowstorm Diamond Earrings ($12,000; maisonbirks.com) and wore her hair in a neat bun to show them off.
5 July 11: Dublin, Ireland
Markle let her hair down later that same day when she and Harry visited the Gaelic Sports Festival. The duchess wore a Givenchy black pantsuit with the chicest cropped blazer I've ever seen. Markle layered a Lavender Hill Boat T-shirt in White ($45; lavenderhillclothing.com) under that crave-worthy jacket. Accessories included a Givenchy Black 2G Buckle Belt ($374; ssence.com), a Givenchy Black GV3 Frame Clutch ($2,295; ssence.com), and the Sarah Flint Perfect Pump ($355; sarahflint.com).
Before you scoff at Markle for all these free designer duds you think she's getting, that's actually not the case. According to People, Markle pays for her own wardrobe because the British royal family is not allowed to accept free clothing. Markle is an independent woman and buys her own clothes (with a bit of help from her new family, but hey, I wouldn't turn that down either), thankyouverymuch.