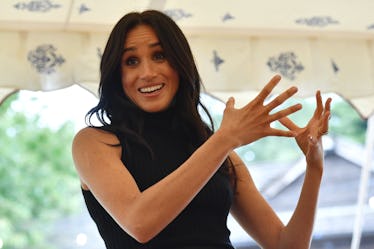 Meghan Markle Played Basketball In Heels & I Can Barely Even Walk In Mine, TBH
WPA Pool/Getty Images Entertainment/Getty Images
In fifth grade, I tried playing basketball and ended up, instead, thoroughly embarrassing myself: I didn't come even remotely close to scoring a basket the entire season. I haven't picked up a ball since, so you can imagine how I felt when I saw videos of Meghan Markle playing basketball in heels the other day. Honestly, when I first saw the videos, I realized that Markle is no longer just my not-so-secret girl crush. In fact, I'm pretty sure now that she is an actual superhuman who's capable of literally anything, who can accomplish things that I never will, nor will ever have the desire to — at least as far as this whole basketball thing is concerned.
Seriously, though, even if you swear that ~ball is life~ and that you're actually legitimately good at basketball, it's probably best that you don't try this at home. The Duchess of Sussex may be able to effortlessly pass a basketball back and forth in high heels, but that doesn't mean we lowly plebs are capable of the same feat.
On Monday, Sept. 24, Markle was spotted doing basketball drills (or "netball" drills, if you want to get all British about it) in heels at an event for the Royal Foundation's Coach Core program, according to Refinery29. Unsurprisingly, someone captured a couple videos of the 37-year-old royal shooting hoops, and despite the fact that she's wearing heels, she honestly looks like a total natural.
I know I might be biased given my admittedly embarrassing track record with basketball, but am I the only one who's kind of in awe over this? Quite frankly, I would probably face-plant within five seconds of even walking on a basketball court in heels, while Markle is just out here doing drills like it's nothing. Guys, how is this woman real?
Also, are royals even "allowed" to play basketball? After all, the "rules" Meghan Markle has to follow now that she's Duchess of Sussex are pretty strict, and I can't help but wonder if playing basketball is one of those weird, random things she's not "supposed" to do.
Well, according to Grant Harrold, an etiquette expert and former member of The Royal Household of TRH The Prince of Wales and The Duchess of Cornwall, royals are definitely allowed to exercise in general, and he told Refinery29 that it's not uncommon for royals to participate in various sports during certain public engagements. So, with that in mind, it's probably safe to assume that Markle knew going into this basketball event that she'd be participating in the sport in one way or another. But if you're still wondering why she decided to do so in heels, your guess is as good as mine. Maybe she's following in Kate Middleton's stiletto-clad footsteps?
Regardless, Markle's natural aptitude for fitness certainly didn't come out of thin air; she used to run a lifestyle blog called The Tig, and many of her blog posts were about food, wellness, exercise, and the like. You might even say that, in another life, Meghan Markle could have turned out to be a famous wellness influencer, rather than the Duchess of Sussex. So wild to think about, right?
Of course, I'm sure Markle is living her best life now that she's part of the royal family — I mean, she's slaying basketball drills in stilettos alongside the love of her life. TBH, I'm kind of jealous.