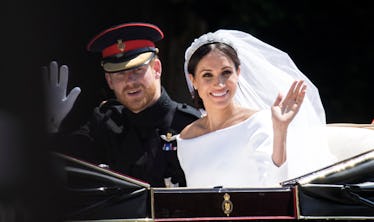 Meghan Markle Once Wrote About Wanting To Be A Princess, So OMG, Dreams Do Come True
WPA Pool/Getty Images Entertainment/Getty Images
You know how people say that if you dream it, you can do it? Well, there's clearly no better example of that than Meghan Markle, the Duchess of Sussex. In case you didn't remember, she's Prince Harry, Duke of Sussex's wife, meaning she's part of the royal family now. And guess what? Meghan Markle's blog post about wanting to be a princess is proof that if you wish for something hard enough, whatever you're wishing for might actually happen. Let's discuss.
In an unearthed post from Meghan Markle's former lifestyle blog, The Tig (RIP), she wrote about dreams of becoming a princess — totally oblivious to the fact that she actually would become the closest thing to a princess only a few years later.
True, she wrote about dreaming of becoming the fictional, animated character She-Ra, the Princess of Power, but still. I'd say she came pretty damn close, wouldn't you?
According to People, Markle revealed in a blog post from 2014 that she "had a bit of a 'pinch-myself-I'm-emailing-with-a-princess' moment" before her interview with the exiled Libyan Princess and humanitarian Alia Al-Senussi.
"Little girls dream of being princesses. I, for one, was all about She-Ra, Princess of Power," Markle wrote, as an introductory anecdote to her interview with the exiled royal.
So why is it that when Meghan Markle dreams of being a princess, she actually becomes a princess, but when I dream of being a millionaire, I still only have a bank account that has less than three zeros?
Some girls have all the luck.
And not only that, but Meghan also referenced Kate Middleton and her royal wedding to Prince William, not knowing that she would soon be Middleton's sister-in-law, and she'd have a royal wedding of her own. She wrote,
Grown women seem to retain this childhood fantasy. Just look at the pomp and circumstance surrounding the royal wedding and endless conversation about Princess Kate.
LOL, that "pomp and circumstance" Kate had? Meghan, honey, you had enough of that to go around at your royal wedding, too! You just didn't know what was to come back in 2014.
Isn't life wild?
Sadly, we can't read the blog post ourselves anymore now that The Tig was shut down last April, along with all of her other social media accounts (still weeping about that, TBH). Her farewell announcement on the website read:
After close to three beautiful years on this adventure with you, it's time to say goodbye to The Tig. What began as a passion project (my little engine that could) evolved into an amazing community of inspiration, support, fun and frivolity. You've made my days brighter and filled this experience with so much joy. Keep finding those Tig moments of discovery, keep laughing and taking risks, and keep being "the change you wish to see in the world."
Sadness. Sadness abounds.
While Markle claims that she deleted her social media accounts because she was no longer active on them, we all know that there is some sort of unwritten rule for royalty staying off sites like Twitter and Facebook. Unless, you know, you're Prince Harry, who reportedly may have had a secret Facebook account up until 2012.
I don't even know what to believe anymore, honestly.
But I *do* believe in one particular thing: ask, and you shall receive. It worked for Meghan Markle, so who's to say that it won't work for me?
Anyways, I'm off to go purchase a journal and write about my dreams of winning the lotto. See ya!