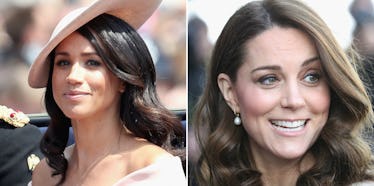 Meghan Markle's First Month As A Royal Has Been So Different From Kate Middleton's
Chris Jackson/Getty Images
Meghan Markle has been an official royal for a month now. Ever since she and Prince Harry became the Duke and Duchess of Sussex on their wedding day, May 19, the couple has made their round of official appearances and have even announced their first royal tour. Meghan Markle's first month as a royal, while similar to Kate Middleton, Duchess of Cambridge's, in some respects, has been an entirely new ballgame for a new duchess.
Before we talk about the differences between the experiences these two duchesses have had, let's talk about how they've supported each other throughout their time together so far. Meghan and Kate reportedly became fast friends during Harry and Meghan's engagement because, well, they share extremely unique circumstances that most people in the world have never experienced (and will never experience, sadly). They are both former commoners who married into the English royal family. Although Meghan was a celebrity in her own right in the United States (and as much as I hate to say this because the success of women is never determined by men), dating and getting engaged to Prince Harry really put Meghan on the map. Suits was and still is a very successful show, but her relationship shot Meghan into superstardom. Kate is familiar with this sensation of suddenly being one of the most famous women on the planet, so she helped her now sister-in-law out when she was first learning the ropes of royal life.
A source told Us Weekly that Kate "will give Meghan advice about adapting to the royal family" and that Meghan was told that "if she ever needed anything, she shouldn't hesitate to get in touch." The source added, "Keep in mind, the aides advising Meghan now are of the same position at the palace as the ones who advised Kate when she first got engaged to William." Basically, these two are in this together.
But how did their first months as royals differ?
This was just a few weeks after Prince Harry and Meghan got married.
This was almost a year after Prince William, Duke of Cambridge, and Kate got married on April 29, 2011. Though the appearances happened significantly faster for one than it did the other, the tasks of the days were pretty similar. Both of the duchesses traveled to an English town with the queen to meet with the locals in some shape or form.
Meghan's first solo event with the queen was also reportedly suggested by the queen herself. According to reports, Queen Elizabeth personally invited Meghan Markle to come to Cheshire with her, whereas Kate's solo event was more officially planned. The reason behind this invitation, however, isn't any shade toward Middleton. Rather, it was a helping hand toward Meghan.
According to Daily Mail, Kate was also more well-versed in royal life by the time she married Prince William than Meghan was by the time she married Prince Harry, considering Kate had been involved with Prince William since 2001 when they both attended St Andrews University. Kate having her family in the UK also helped her adjust to royal life, according to the source. They said, "Remember, unlike Kate she doesn't have a family to fall back on here. The queen's thinking is simple, she wants to put her at ease."
Basically, the biggest difference between Meghan and Kate's first months as royals is the Duchess of Sussex still has a lot to learn about royal life, whereas the Duchess of Cambridge started off her first month with way more knowledge of what she was getting into.
In order to help get Meghan up to speed, she's reportedly being given "duchess lessons" from a woman who earned herself the nickname "Samantha the Panther" due to her strict rule-following policies. According to Daily Mail, Samantha Cohen has been put in charge of teaching the Duchess of Sussex all about the ins and outs of being British royalty. "It will be six months of listening," a source toldThe Times, as reported by The Daily Mail. "She is seeking out advice from a range of people. She is going to proceed with humility."
Another announcement during Meghan's first month as a royal was her and Prince Harry's first royal tour. Kensington Palace announced on June 10 that the couple's first royal tour will start this coming fall, and they will travel to Australia, New Zealand, Fiji, and the Kingdom of Tonga. The announcement read,
The Duke and Duchess of Sussex will undertake an official visit to Australia, Fiji, the Kingdom of Tonga, and New Zealand in the Autumn. Their Royal Highnesses have been invited to visit the Realms of Australia and New Zealand by the countries' respective governments. The Duke and Duchess will visit the Commonwealth countries of Fiji and Tonga at the request of the Foreign and Commonwealth Office.
I hope you're ready for a lifetime of travel, Meghan, because based on how much jet-setting your sister-in-law Kate has been doing ever since she tied the knot with Prince William, your schedule isn't going to clear up anytime soon.