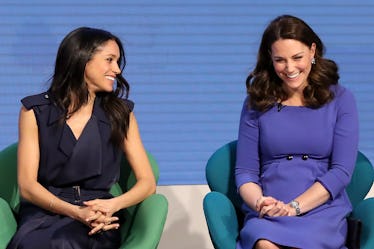 Kate Middleton Has Been Helping Meghan Markle Adjust To Royal Life & It's So Sweet
Chris Jackson/Getty Images Entertainment/Getty Images
Meghan Markle is getting royalty lessons from the best possible teacher: Kate Middleton, her soon-to-be sister-in-law. With just 12 weeks until the royal wedding, Markle has reportedly been learning the ropes of royal life through the help of a team of advisors who teach her everything from best practices for a formal dinner to helping her memorize the slew of royal family rules. Outside of her team, Kate Middleton has been helping Meghan Markle adjust to royal life and it's the exact kind of warm welcome any woman would want from a future sister-in-law.
According to Us Weekly, Middleton has been passing down her knowledge of how to navigate the beginning of your life as a new member of the royal family. A source told the outlet that Middleton, "will give Meghan advice about adapting to the royal family," and "that if she ever needed anything, she shouldn't hesitate to get in touch." The source made sure to make note of the fact that Middleton is really the only person capable of giving advice to Markle about her particular circumstances because she did it once herself. "Keep in mind," the source said, "the aides advising Meghan now are of the same position at the palace as the ones who advised Kate when she first got engaged to William."
So basically, Middleton and Markle bond over the fact that they're the only women each other knows who have married into English royalty without being royalty/nobility beforehand.
That's a very small pool of women to be in, so I imagine it's been a relief for Markle to have at least one person she can turn to who knows her exact circumstances from personal experience. And it's even better to know that one person will be the aunt of her children. The source also added that Prince William has been there for Markle whenever she needs it. "Harry made sure that his brother and sister-in-law are both available to Meghan," they said. "You can't trust anyone more than family." Markle and Prince Harry live in Nottingham Cottage on the grounds of Kensington Palace. Middleton and Prince William live in the 20-room apartment inside of Kensington Palace, so whenever Markle has needed help, according to the source, she has hopped from her cottage to Will and Kate's apartment to talk things out with her soon-to-be sister-in-law.
And no need to worry if Markle and the family get along — the source said "Meghan gets along great with everyone." Prince William and Kate Middleton are mostly happy to see Prince Harry so happy and making longterm plans for his life. The source added, "They're so pleased to see Harry in a good place and planning his future."
The forum was aimed at letting the public know what their plans for the future are with the philanthropy. Kate Middleton's speech at the forum made note of the fact that as royals, their work is lifelong, as opposed to politicians who one day will not hold office. That means their philanthropic efforts have to be set up for long-lasting change right from the get-go. She said,
The work we do can, and should, have a long-lasting resonance. For this reason, we're able to support causes we're passionate about for decades into the future, rather than just a few months or years ... We feel strongly that we have to take a longterm view that is measured in generations.
Markle will reportedly become a patron of the Royal Foundation after she and Prince Harry get married in May. Based on the reports of their personal lives and public lives together, it looks like Meghan Markle and Kate Middleton are going to love being family.