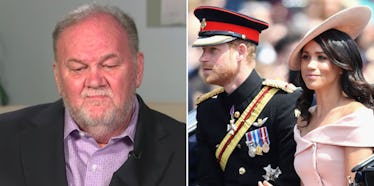 Meghan Markle's Dad Gave His First Interview Since The Wedding & It's Emotional
Chris Jackson/Getty Images/YouTube
Meghan Markle, Duchess of Sussex's family made a bit of a stir leading up to her wedding in May. First, there was the staged photos incident with Thomas Markle, then there was the odd handwritten note from Markle's half-brother to Prince Harry, and then there was the whole will-he-won't-he scenario when no one was sure if Thomas Markle was going to attend the wedding. He ended up not being able to attend due to reported heart issues. Now he's done his first interview about his daughter, and Thomas Markle's interview about Harry and Meghan's wedding got pretty emotional.
Markle did a video interview with Piers Morgan and Susanna Reid on Good Morning Britain on the morning of Monday, June 18. This marks his first official interview since Meghan and Harry got married just one month ago on May 19, and since he reportedly suffered a heart attack just before the wedding. The interview was lengthy, clocking in at around 30 minutes, and Markle dished on just about everything you could think to ask him. From the conversation's he's had with Harry to how he feels about Brexit, Markle was an open book during this interview. But he got particularly emotional when discussing his absence from his daughter's wedding.
He gave his side of the story about his absence. He said his heart complications were worsened due to the stress of the staged photo incident that occurred just a few weeks before the wedding. (He had paparazzi stage photos of him doing "research" for his daughter's wedding in order to "improve" his image.) "I couldn't get over the fact that that had happened," he said. "All of that stuff was working on me." He continued,
I've got a bit of a heart condition. This pushed me a little further to the point where I had heart palpitations. I had to drive at two in the morning into Rosarito to a hospital… I had a heart attack.
Markle was noticeably emotional in this part of the interview. "At that time I started getting heart palpitations," he added. "I started getting chest pains. And I said, 'I have to cancel.' And that was because I didn't take care of the heart problem before."
He said Meghan and Harry, although "disappointed," were understanding of his health issues and just wanted him to focus on getting better after his heart attack. "They were disappointed," he said. "Meghan cried — I'm sure — she did cry. They both said, 'Take care of yourself. We're really worried about you.' They said the important thing is that I get better."
Markle noted that he was "honored" that Prince Charles of Wales stepped in for him when he couldn't make it, but it does make him sad to think that his involvement in his daughter's wedding will forever entail him not being there. "I was honored," Markle said in the interview. "I can't think of a better replacement than someone like Prince Charles."
He continued,
He looked very handsome and my daughter looked beautiful with him. I was jealous. I wish I had been there. I wish it'd been me, but thank god he was there and thank him for that.
Markle admitted his absence really took a toll on him. "I was very upset it wasn't me, but the whole world was watching my daughter." He added, "The unfortunate thing for me now is that I'm a footnote in one of the greatest moments in history rather than the dad walking her down the aisle. That really upsets me somewhat."
That sadness aside, Markle gave some insight into what things were like for him while Meghan and Harry first started dating all the way up to when they got married. "First phone calls were, 'Daddy, I have a new boyfriend,'" he said. "And I said, 'That's really nice.' And the next call was like, 'He's British,' and I said, 'Well, that's really nice.'" Markle continued,
And the third time around was, 'Well, he's a prince.' And at that point, she said, 'It's Harry,' and I said, 'Oh, Harry, OK.' And she said, 'Of course, we'll have to call him H so no one knows' ... We talked about that and eventually, I spoke to him as well, very nice man, gentleman.
Markle also gave details about the phone call during which Meghan told him she was engaged and Harry asked for Markle's blessing. "Meghan told me first and then a few times after that," Markle said. "Harry got on the phone with Meghan. They called me together and Harry asked for her hand over the phone. And I said, 'You're a gentleman. Promise me you'll never raise your hand against my daughter, and, of course, I give you my permission.'"
He took some time to gush over his daughter a bit and said he's sure kids will be on the way soon for Harry and Meghan. "My daughter's certainly a prize for him as well," he said (true). "Yeah, [Harry's] great," he continued. "He's an interesting guy, but my daughter's been a princess since the day she was born."
Markle said about Harry and Meghan having children, "She's wanted children for a long time, yes. And when she met Harry and she spoke about how much she loves him, there's gotta be a child in the making soon." Based on this interview, things seem to be fine between Thomas and Meghan Markle.