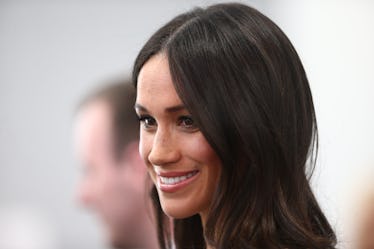 Meghan Markle Reportedly Had The Saddest Reaction To Her Dad's Staged Paparazzi Photos
WPA Pool/Getty Images Entertainment/Getty Images
As if Meghan Markle's week wasn't already stressful enough with her wedding coming up this Saturday, May 19, her father has added some more drama to the mix thanks to his reported staged photo ordeal. According to new reports, Meghan Markle's reaction to her father's staged photos was so sad. A source told Us Weekly that Markle was "upset and disturbed" by her father's decisions and just wants to focus on her wedding. Elite Daily reached out to Kensington Palace for comment on this report, but did not hear back by the time of publication.
The source said, "Meghan is upset and disturbed by the entire ordeal and just wants to move past it. She doesn't want to let anything ruin her day and is trying to keep focus on the weekend." In case you're behind and have no idea what I'm talking about, new paparazzi photos of Markle's father, Thomas Markle, surfaced on May 12 showing him in a coffee shop looking at an article about his daughter and Prince Harry. Daily Mail revealed that the photos were staged, and Samantha Markle confirmed the report on Twitter on May 14 in a since-deleted tweet.
Markle's dad was supposed to be attending the royal wedding on Saturday, May 19, but according to TMZ, he has decided not to attend the wedding because he doesn't want to further embarrass his daughter and the royal family, and also because he recently suffered a heart attack. Elite Daily reached out to Kensington Palace for confirmation on the report, but did not hear back by the time of publication.
Despite Markle's decision not to attend the wedding, Prince Harry and Meghan Markle have asked the media to "respect" her father's space in the midst of all of this.
A spokesperson for Kensington Palace said on Monday, May 14, "This is a deeply personal moment for Ms. Markle in the days before her wedding. She and Prince Harry ask again for understanding and respect to be extended to Mr. Markle in this difficult situation."
The royal website previously announced that Thomas Markle would take part in the royal ceremony on May 19. The statement said,
Both of the bride's parents will have important roles in the wedding. On the morning of the wedding, Ms. Ragland will travel with Ms. Markle by car to Windsor Castle. Mr. Markle will walk his daughter down the aisle of St George's Chapel. Ms. Markle is delighted to have her parents by her side on this important and happy occasion.
Now that Markle's dad has reportedly chosen not to attend the wedding, it's not clear if Meghan Markle's mother, Doria Ragland, will walk her daughter down the aisle or if she will walk alone.
The source told Us Weekly that Markle's relationship to her father "has always been strained" due to his "ill thought-out decisions and his lack of responsibility," but according to TMZ, "he meant no harm" to the royal family or his daughter when choosing to stage the photos.
A representative for Markle's dad reportedly said in a statement to TMZ,
He meant no harm to Meghan or the Royal Family when he made a deal to allow a photo agency to take pics of him getting ready for the wedding. He says he had a reason and it was not principally about money... Over the last year he's been ambushed by paparazzi who have photographed him in the most unflattering circumstances ... buying beer, looking disheveled and reclusive. He's especially upset that they made him look like a lush.
The royal wedding will start at 12 p.m. London time this Saturday, May 19, so get ready, people. It's going to be a bit of a day.