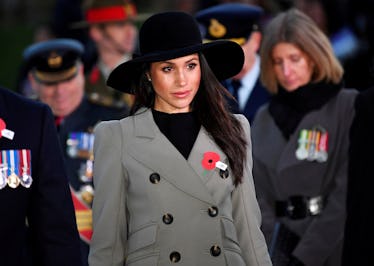 Meghan Markle's Dad Reportedly Won't Be Attending Her Wedding & The Reason Is So Sad
WPA Pool / Getty Images
There's some devastating news for anyone who was looking forward to watching Meghan Markle's father, Thomas Markle, walk the future duchess down the aisle. He'll reportedly no longer be attending the wedding to avoid embarrassing the royal family after it was reported by the Daily Mail that he staged a series of photos preparing for the wedding for profit, according to TMZ. On top of that, TMZ reports that Meghan Markle's dad suffered a heart attack six days ago. Elite Daily reached out to Kensington Palace for confirmation on the report but did not hear back by the time of publication.
On May 4, after months of speculation about who would walk Markle down the aisle on her wedding day, the official royal website announced that her father, Thomas Markle, would have the honor, writing:
Both of the bride's parents will have important roles in the wedding. On the morning of the wedding, Ms. Ragland will travel with Ms. Markle by car to Windsor Castle. Mr. Markle will walk his daughter down the aisle of St George's Chapel. Ms. Markle is delighted to have her parents by her side on this important and happy occasion.
But sadly, ever since Meghan and Prince Harry announced their engagement, the former actress and every one of her family members have been dogged by paparazzi digging into every aspect of their lives. It's a pretty stressful situation to be in, and it's led to so much drama playing out in the press.
All the drama culminated on May 12, when a series of photos showing Thomas Markle preparing for the royal wedding at a Starbucks in Rosarito, Mexico hit the press — photos that were later revealed by the Daily Mail to be staged. Making matters a little messier is the fact that Thomas was reportedly paid £100k for the pics.
Apparently, Thomas did not mean any harm by posing for the pics, and that he did it in an effort to stop the paparazzi from following him. Thomas reportedly told TMZ the following about the situation:
He meant no harm to Meghan or the Royal Family when he made a deal to allow a photo agency to take pics of him getting ready for the wedding. He says he had a reason and it was not principally about money... Over the last year he's been ambushed by paparazzi who have photographed him in the most unflattering circumstances ... buying beer, looking disheveled and reclusive. He's especially upset that they made him look like a lush.
While TMZ reports that Thomas had been offered between £50,000 and $100k for interviews about the royal wedding, he's turned all of them down and only accepted this opportunity (for reportedly far less than the rumored £100k price tag) was simply because he saw "no harm" in it and thought it "would help recast his image."
Now, Thomas reportedly deeply regrets working with the photo agency and acknowledges that the pics look "stupid and hammy."
Thomas reportedly suffered from a heart attack six days ago, according to TMZ, but he checked himself out of the hospital so he could attend Meghan's wedding. Now, he's reportedly decided not to attend because he doesn't want to embarrass his daughter or the royal family.
There has been no word from Kensington Palace on who's going to walk Meghan down the aisle now that Thomas has reportedly decided not to attend the wedding. Prior to the announcement that Thomas would be doing the honors, it was speculated that Meghan's mother, Doria Ragland, would accompany her down the aisle, since they're so close.
Perhaps she'll take over the task? Despite this sad turn of events, the sight of Meghan's mom walking her down the aisle would surely be a sight to behold! I'm sobbing into my pillow already just at the thought of it!