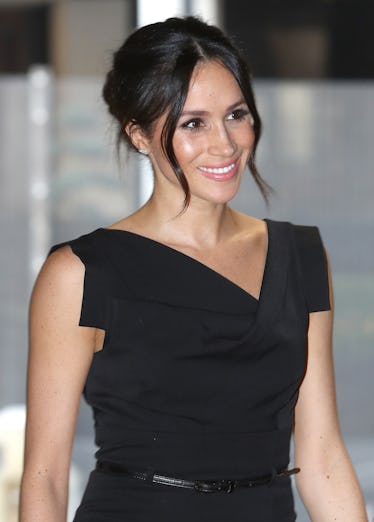 Here's Who Will Officially Be Walking Meghan Markle Down The Aisle At Her Wedding
Chris Jackson/Getty Images Entertainment/Getty Images
Finally, some really, really good news that's coming from the Markle family! In case you weren't aware, some of Meghan Markle's family members have been a little less supportive of her upcoming nuptials than the rest of the world. (I, for one, have my finest outfit ready for May 19, as well as an entire box of tissues as I weep over every minute of the royal wedding.) A lot of things have been up in the air for the royal wedding, but now, we've got at least one concrete bit of information, and it's really good, y'all. Meghan Markle's dad will walk her down the aisle at the royal wedding, and I'M SO VERY EXCITED!
On May 4, the royal website shared an update from the press secretary to Prince Harry regarding some details about their wedding day, and there are some real gems of information hidden within. The biggest of all, though, is that it will be Meghan Markle's dad, Thomas Markle, who walks his daughter down the aisle. According to the site, Prince Harry's press secretary explained the important role that each of Markle's parents will play on May 19:
The first thing I would like to share is that Prince Harry and Ms. Markle are very much looking forward to welcoming Ms. Markle's parents to Windsor for the wedding ... Both of the bride's parents will have important roles in the wedding. On the morning of the wedding, Ms. Ragland will travel with Ms. Markle by car to Windsor Castle. Mr. Markle will walk his daughter down the aisle of St George's Chapel. Ms. Markle is delighted to have her parents by her side on this important and happy occasion.
You hear that, world? Meghan Markle's parents will both be there celebrating their daughter's wedding day!
For quite some time, many were unsure as to whether or not Markle would ask her father to walk her down the aisle. It was thought that Markle would ask her mother to walk her down instead, considering she frequently talks about how close she is to her mother, who has been divorced from Thomas Markle since Meghan was 6 years old.
I am elated to see such happy news from the Markle family, especially because Meghan Markle's siblings have been expressing their concerns over the royal wedding.
She has two older half-siblings through her father — Thomas Markle Jr. and Samantha Grant — and both have garnered plenty of media attention for speaking about the soon-to-be royal on several accounts.
Most recently, Meghan Markle's brother reportedly wrote Prince Harry a letter to ask him to call the royal wedding off, and no, I'm not joking. Elite Daily reached out to Kensington Palace and Meghan Markle's team regarding the report but did not hear back by the time of publication.
On April 26, Thomas Markle Jr. reportedly wrote to Prince Harry, saying, "It's not to [sic] late, Meghan Markle is obviously not the right woman for you," and that he's confused as to why Prince Harry doesn't "see the real Meghan that the whole world now sees." Thomas Jr. also called his sister Meghan a "jaded, shallow, conceited woman that will make a joke of you and the royal family heritage."
Um, are we talking about the same Meghan Markle? I feel like we're not talking about the same Meghan Markle.
The letter might have been written out of anger that some of Markle's family has reportedly not been invited to the royal wedding, and Thomas Jr. reportedly went on to write that he doesn't understand why Meghan "doesn't invite her own family and instead invites complete strangers to the wedding." Methinks there's a bit of jealousy going on, but who am I to say?
But let's be real: Pretty much everyone else in the universe is beyond excited for this royal wedding, myself included. And now that we know Meghan Markle's dad will be walking her down the aisle, get ready for a total sobfest.