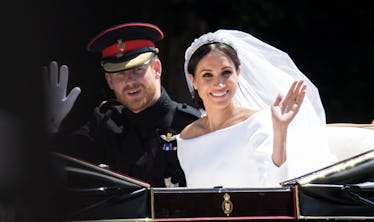 Meghan Markle Has To Take Duchess Lessons, So Get Ready For 'The Princess Diaries' IRL
WPA Pool/Getty Images Entertainment/Getty Images
Meghan Markle has a lot of studying to do. According to The Daily Mail, now that the former actress is officially a member of the royal family, Meghan Markle has to take duchess lessons. Imagine The Princess Diaries, except real life and her teacher isn't Julie Andrews (much to my dismay). The Duchess of Sussex already got a bunch of lessons in being a royal while she was engaged to Prince Harry, but being a duchess means there are new things to learn. Her teacher is apparently going to be one of Queen Elizabeth's favorites — a woman named Samantha Cohen, who has worked for the royal family for almost two decades.
The Daily Mail reports that Cohen will be moving from Buckingham Palace to Kensington Palace, where Meghan and Harry live, in order to help the duchess over the next six months. Yes, this training will take six months. And get this: Cohen's nickname is Samantha the Panther. Meghan, you better start studying now because I don't think a woman with the nickname Samantha the Panther is here to mess around.
"It will be six months of listening," a source told The Times as reported by The Daily Mail, adding, "She is seeking out advice from a range of people. She is going to proceed with humility." Meghan is apparently all in favor of having a rigorous schedule, as that's what she was used to when she was still working on Suits. So while she's in the middle of getting these private duchess lessons from Samantha the Panther, she'll still be busy meeting and working with various charities, making public appearances, all that jazz. The source notes, "It is not going to be quiet, though. It is going to be a very busy office. She has worked every day of her life. She is used to a demanding schedule."
One of Cohen's first tasks in advising Meghan was guiding her through Prince Charles' 70th birthday celebration, which was a garden party attended by the many charities Charles works with.
Meghan wore pantyhose to the garden party, which might have been Cohen's doing, seeing as Meghan has never adhered to the royal pantyhose rule Kate Middleton usually sticks to. But the party was Meghan's first official appearance as the Duchess of Sussex, so maybe she and Cohen both felt it was appropriate to throw on some 'hose for the day.
Prince Harry gave a speech at the garden party in honor of his father, but a bee attacked him during the speech and Meghan couldn't stop laughing.
This story has nothing to do with Meghan's royal lessons. I just love it very much and think everyone should watch this video at least three times today.
Anyway, back to Meghan Markle and her new life as a duchess. The Duchess of Sussex has a long list of new rules she has to follow now that she's officially royalty, and this set of rules would put Dua Lipa to shame.
Here are just some of the things Meghan Markle isn't allowed to do anymore:
1. Take selfies with fans.
2. Have her own social media accounts.
3. Vote/express her political opinions.
4. Go out without security.
5. Crossing her legs when she sits down.
6. Eat before Queen Elizabeth starts to eat when having a meal with the Queen.
7. Enter a room before Prince William and Kate Middleton. At official royal events, members of the royal family enter a room in order of the line of succession.
And that's just some of them. The whole voting/expressing political opinion rule isn't a rule per se, rather, it's a strict tradition the royal family has followed for decades. Monarchy and parliament are kept decidedly separate in the U.K., and part of that separation includes the royal family not advocating for any particular political belief. The strongest political statements Meghan will likely be able to make will be made in the charities she chooses to support.
Meghan is an outspoken feminist, however, and her official bio on the royal family website highlights that feminism and her charity work throughout her life, so it's possible that the royal family is starting to let go of the reins a bit when it comes to expressing political opinion. If/when that rule does change, I'm sure Meghan will hear about it from Samantha The Panther Cohen.