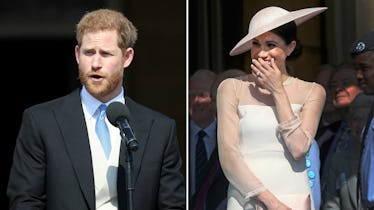 A Bee Attacked Prince Harry During This Speech & Meghan Markle Couldn't Stop Laughing
Chris Jackson/Getty Images Entertainment/Getty Images
I don't want to make assumptions, but if Prince Harry and Meghan Markle, Duke and Duchess of Sussex's marriage is going to go as well as the first few days since their nuptials, these two are in for some serious wedded bliss. In their first outing together as husband and wife, Prince Harry gave a touching speech in honor of his father's 70th birthday. During his time at the mic, a bee basically came in and was like "it's a 'no' for me," causing Prince Harry to flinch. Meghan burst into giggles and the world was like, "Yes. We love you. More giggling!" The video of a bee attacking Prince Harry and Meghan laughing at him is super sweet, reminding everyone what a joy these two really are together.
Technically speaking, Charles, Prince of Wales' 70th birthday isn't until Nov. 14, but the family threw an event to celebrate him early. The royal gang and their royal hats gathered around Buckingham Palace on Tuesday, May 22, in honor of Prince Charles, where Prince Harry delivered a genuinely touching speech about his dad. From the footage, it looks like a bumblebee is hanging around Prince Harry's head for some time before diving in close to get a better look. It catches Prince Harry and Meghan off guard, causing her to break her "calm and cool" royal stance and enjoy a laugh. Clearly, Prince Charles and his wife, Camilla, missed what happened, so Meghan quietly explained it. Prince Harry stated, "Sorry. That bee really got me."
Take a look at the silly moment.
Why is this video so much fun?! It's objectively a stupid moment! But the world adores Meghan and Harry and everything they do! More bees! More giggles! Yes! Yes! Yes!
Part of what made this particular appearance by the couple so great is that it's the first time we've seen them since they got married on May 19. I assumed they would take the week to sleep and eat tea and crumpets in bed, but when you're a royal, there are always places to go, people to see, princes to honor. According to royal expert Katie Nicholl, those who received an invitation to the celebration were really in for a treat. Nicholl told Entertainment Tonight,
You have to be carefully selected, and if you're lucky enough to get an invitation to a garden party, you really do get to mingle with royalty, to drink tea, and eat cucumber sandwiches and scones and jam and cream with the great and the good.
Apparently, the Queen only throws garden parties three times a year, making them particularly exclusive and special. Considering they're garden parties, it totally makes sense they're always in the summer — especially considering England's infamous unpredictable weather. Nicholl expanded:
This particular garden party is in honor of the Prince of Wales. It's tying in with his 70th birthday, which doesn't actually happen until November, but this is his 70th year. It's being celebrated in many ways, and this garden party is really in recognition of everything that Charles has achieved in terms of his charities and the great work that he does right here in the UK and overseas.
Nicholls also explained this was the perfect event for Meghan to step out for the first time as the Duchess of Sussex, especially given her relationship with her new father-in-law. Prince Charles walked her down the aisle in place of her absent father, which Nicholls says really "cemented" her friendship with the Prince of Wales. Nicholls says, "I think Prince Charles is likely seeing Meghan as the other daughter that he never had."
Fortunately, it looked like Prince Harry walked away from the event fairly unscathed by his hilarious bee run-in.
Happy early birthday, Prince Charles! Your son got you a new daughter-in-law!
Check out the entire Gen Why series and other videos on Facebook and the Bustle app across Apple TV, Roku, and Amazon Fire TV.