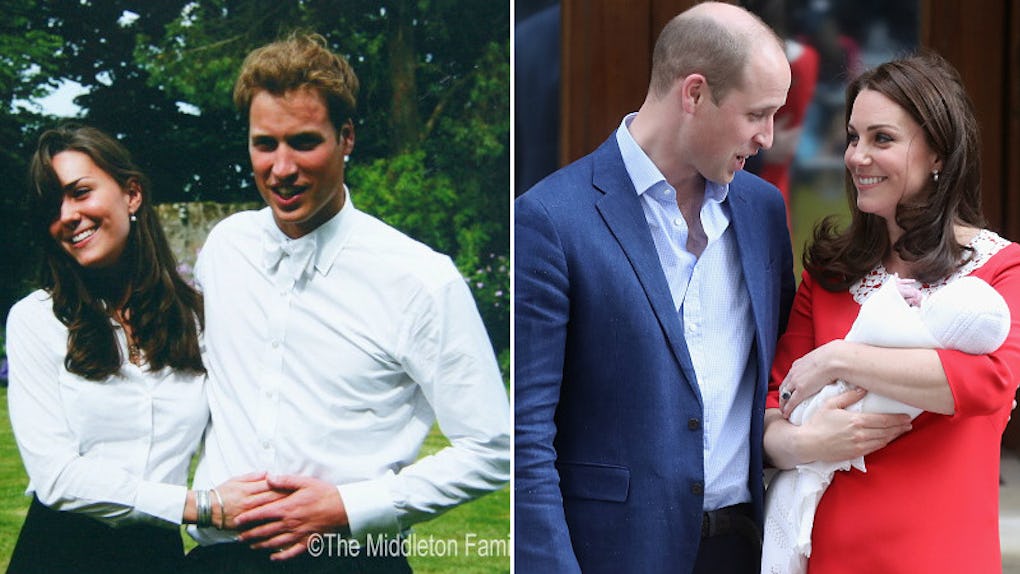 Middleton Family/Clarence House via GettyImages & Chris Jackson/Getty Images
Prince William & Kate Middleton's Relationship Timeline Is Too Cute & So Relatable
When I was growing up, it was easy to think that royalty only married royalty. But in 2011, Kate Middleton and Prince William proved that you don't have to be a princess to marry a prince, and that you can make an impact on the world no matter where you come from. With all the recent hype surrounding Prince Harry and Meghan Markle's wedding, I didn't think about Prince William and Kate Middleton's relationship timeline (and the first big royal wedding of our time, really) because I was so caught up in the most recent one.
According to Biography, Kate Middleton was born to Carole and Michael Middleton in 1982. Michael's family was wealthy and had ties to British aristocracy. When Michael and Carole started their own mail-order party goods company, they became multi-millionaires, giving their children the chance to attend exclusive boarding schools.
William was born to Princess Diana and Prince Charles, also in 1982, and being the eldest child, is second in line to the throne after his father. To see how Kate and Will came to be a living, breathing, very real example of a fairytale, follow along.
2001-2005: The College Years
According to Biography, William and Kate met their freshman year of college, in 2001, at the University of St. Andrews in Scotland. The two lived in the same dorm. Because they were both art history majors, they had a lot of the same classes and quickly became friends. (Yes, just friends.) When Kate modeled at an exclusive fashion-show fundraiser in 2002, William, being present at the charity event where his future wife walked the runway in a lacy black dress, began to see her in a new light. When he tried to approach her romantically, she turned him down because she was dating a senior at the time.
When her boyfriend graduated, the two of them broke up. Come sophomore year, Kate and William moved into an apartment with a couple of friends, and that's where their romance began.
Kate and William hid their relationship for about two years, and when the paparazzi spotted Kate on a royal ski trip in 2004, the cat was out of the bag. The following year, the two graduated from the University of St. Andrews.
2006: Their First Public Appearance
According to CBS News, in 2006, Prince William was commissioned into the British Army as a second lieutenant at his Royal Military Academy graduation. Kate's attendance at the ceremony made it seem like she had been accepted into the royal circles that surrounded the prince.
April 2007: Their Time Apart
In April, the couple publicly split. However, just a couple months later, they rekindled their relationship. Years later, when the couple got engaged, they sat down with ITV News political editor Tom Bradby. In the interview, William said that their brief time apart was a positive experience for both of them.
"We were both very young … and we were both defining ourselves as such and being different characters, it was very much trying to find our way and we were growing up, it was just a bit of space... and things worked out for the better," he said.
2008: Their First Public Appearance In A Year And A Half
After graduating from the Royal Military Academy, Prince William took it a step further and joined the Royal Air Force. According to CBS News, Kate attended William's graduation from the Royal Air Force College that December (not to be confused with his graduation from the Royal Military Academy two years prior). This was their first public appearance since their brief split in 2007.
October 2010: The Royal Engagement
February 2011: Back Where It All Began
Kate and William returned to the University of St. Andrews, where they met, to celebrate its 600th anniversary. According to BBC, the university created a scholarship in honor of the couple as a wedding gift. Prince William addressed the students, staff, and alumni attending the festivities and said, "This is a very special moment for Catherine and me. It feels like coming home."
April 2011: The Royal Wedding
On the morning of April 29, Prince William and Kate Middleton became the Duke and Duchess of Cambridge at Westminster Abbey in London, drawing in three billion views worldwide. The two currently reside in Kensington Palace with their three kids.
July 2013: Kate & William Welcome Baby #1
Prince George Alexander Louis of Cambridge (third in line to the royal throne after Princes Charles and William) was born on July 22 in the late afternoon. He weighed 8 pounds 6 ounces.
May 2015: Baby #2 Is Born
Fourth in line for the throne, Princess Charlotte Elizabeth Diana was born on the morning of May 2, weighing 8 pounds, 3 ounces. In 2011, the Commonwealth countries passed a new succession law that stated the order of succession would no longer be gender-based, but rather, strictly age-based. So, when Princess Charlotte welcomed her baby brother, she made history as the first princess to not lose her spot in line for the throne when a younger brother was born.
April 2018: Here Comes Baby #3
And most recently, the Duke and Duchess of Cambridge welcomed their youngest, Prince Louis Arthur Charles. On the morning of April 23, the 8-pound-7-ounce baby boy became fifth in line to the throne.
So, here's to Kate and William! Thanks for making your love story something to invest in, and surprisingly, something to relate to. Love live love!
Check out the "Best of Elite Daily" stream in the Bustle App for more stories just like this!