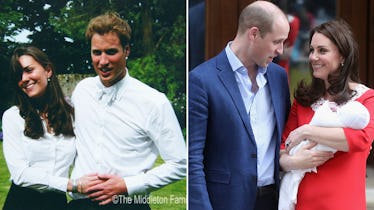 A Brief History Of Prince William & Kate Middleton's Relationship, Because They're #Goals
Middleton Family/Clarence House via GettyImages & Chris Jackson/Getty Images
When I was growing up, it was easy to think that royalty only married royalty. But in 2011, Kate Middleton and Prince William proved that you don't have to be a princess to marry a prince, and that you can make an impact on the world no matter where you come from. With all the recent hype surrounding Prince Harry and Meghan Markle's wedding, I didn't think about Prince William and Kate Middleton's relationship timeline (and the first big royal wedding of our time, really) because I was so caught up in the most recent one.
According to Biography, Kate Middleton was born to Carole and Michael Middleton in 1982. Michael's family was wealthy and had ties to British aristocracy. When Michael and Carole started their own mail-order party goods company, they became multi-millionaires, giving their children the chance to attend exclusive boarding schools.
William was born to Princess Diana and Prince Charles, also in 1982, and being the eldest child, is second in line to the throne after his father. To see how Kate and Will came to be a living, breathing, very real example of a fairytale, follow along.