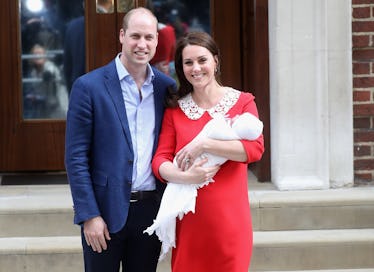 This Is How Prince William Knew Kate Middleton Was The One, So Grab A Tissue
Chris Jackson/Getty Images Entertainment/Getty Images
With all of the buzz surrounding the recent wedding of Meghan Markle and Prince Harry, it seems like everything having to do with the British royals is at the forefront of all our minds. So much so, that it's hard not to compare the newest royal couple with the OG royal couple of our generation, Prince William and Kate Middleton. How Prince William knew Kate Middleton was the one is a totally legit thing to wonder, considering he wasn't just choosing a wife, but also deciding who would be the next queen consort, basically. No pressure. And let's not forget, Middleton was a "commoner," which just ups the ante even more.
For those of you who still don't know how the couple met, the story is full of juicy deets.
Despite the misconception that Middleton innocently met Prince William while studying art history at St. Andrews together, royal biographer Katie Nicholl told Katie Couric in 2013 that Middleton actually met the Prince before college through mutual friends. Hence, the rumor (that doesn't seem all that far-fetched) that implies Middleton decided to attend the university purely because she wanted to pounce on William and lock him down.
But regardless of her intentions, after taking a gap year, Middleton and Prince William ended up sharing a class schedule and became really good friends. Surprisingly, it actually took a while for things to take a romantic turn between the duo and they both reportedly dated a few other people over the course of their friendship before they decided to give love a shot.
Apparently, the catalyst for their subsequent romance was the school fashion show that Middleton was modeling for. And after catching a flash of her black underwear, William knew that he had found his queen. (JK, sort of.)
According to Cosmopolitan, their relationship didn't become public until June 2005 after being spotted together on a ski trip, but it wasn't purely smooth sailing from there. The couple decided to call it quits for a few short months in 2007.
"We were both very young … and we were both defining ourselves as such and being different characters, it was very much trying to find our way and we were growing up, it was just a bit of space, things like that and things worked out for the better," said Prince William in their official engagement interview with BBC's Tom Brady.
In the summer of 2010, the couple decided to move in together in a farmhouse in Wales — á la The Simple Life, only classier — and by this point, it's pretty safe to say that everyone and their mom was convinced that these two would definitely be headed to the altar. And sure enough, in November of that same year, the pair were officially engaged.
When asked during the engagement interview with Brady when exactly he knew he wanted to marry Middleton, Prince William gave a surprisingly straightforward and genuine answer:
"When I first met Kate I knew there was something very special about her and then I knew that there was something that I possibly wanted to explore there, but we ended up being friends for a while and that was a good foundation. And over the years I knew things were getting better and better. It's really easy being with each other."
Awwww! While it's not the sappiest or overtly romantic of answers, something about the rational explanation of finding love and realizing slowly that someone is the person you want to be with is actually pretty adorable. And it just sounds like it was easy for them to know they wanted to be together.
Nearly eight years after that very titillating interview (and three kids later), we can only assume that Prince William and Kate Middleton are feeling pretty great about their life choices thus far. Here's hoping it's still just as easy, and that their beautiful life together is just full of more and more love.
Check out the "Best of Elite Daily" stream in the Bustle App for more stories just like this!