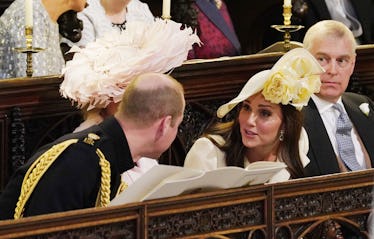 Prince William & Kate Middleton's Body Language At The Royal Wedding Was Traditional
WPA Pool/Getty Images Entertainment/Getty Images
While all eyes were on the bride and groom during the royal wedding, but I couldn't help glancing over at Prince William and Kate Middleton. After all, I'm sure that the romantic ceremony stirred more than a few memories of the couple's own beautiful nuptials back in April 2011. I know it's been seven years now, but who can forget that dreamy Alexander McQueen frock, or that iconic balcony kiss? Well, judging from their adorable display, it could have been just yesterday. Weeks after welcoming their third bundle of joy, Prince William and Kate Middleton's body language at the Royal Wedding proves that they're continuing to live happily ever after, and it's enough to inspire all the feelings.
I've always had a soft spot for Prince William and Kate Middleton, maybe even more so because they are such a private couple. The world went wild when the couple shared a rare glimpse of their relationship with not just one, but two kisses during their wedding day. And while Meghan Markle has certainly made headlines for breaking tradition with her Hollywood career and American background, Middleton was the original princess who rekindled our obsession with the British royal family after Princess Diana.
With her infectious energy, her penchant for mixing high-end style staples with more affordable street pieces, and, of course, her flawless blowout that we all tried to copy at one point or another, what was not to love? And while Prince Harry and Meghan Markle are known for being more affectionate in public, Prince William and Kate Middleton are a little more subtle about sharing their love with the world — which I think definitely adds to the fascination.
Elite Daily spoke to Body Language Expert, Traci Brown. Brown is the author of Persuasion Point: Body Language and Speech for Influence, and she was able to comment on the subtle interactions between Prince William and Kate Middleton during the royal wedding ceremony.
Brown commented on Prince William and Middleton's interactions while they sat in the alter, and says, "Kate's smile and eyebrows say she's so excited here! She's having a happy gossipy moment with her husband." Brown continues, commenting on the second photo below, stating, "But then goes right back into reserved monarchy style."
Body language expert Susan Constantine also commented on the interaction between Prince William and Kate Middleton, and tells Elite Daily, "Kate looks over at Camilla and with her facial expressions tells her to stop the comments and smirks, and respectfully keep her thoughts to yourself."
Yep, based off the photos, it seems like the royal couple is thrilled to be at the wedding — but they're keeping it totally traditional without getting too excited.
Even seven years after their wedding and with three children between them, it seems like we still can't get enough of their undeniable connection. Numerous body language experts have dissected the couple's public outings, from when she was expecting to her reaction after the birth of Prince Louis in April, and all arrived at the same conclusion: This is one couple that can't get enough of each other. Not only do they face each public engagement as a supportive team, but Kate Middleton and Prince William always present a unified front, even in the most stressful situations. Plus, they aren't afraid to have a private giggle fest together when the moment strikes.
Well, it looks like the couple that giggles together stays together, PDA optional. It sounds like Prince Harry and Meghan Markle have some pretty great role models to look up to when it comes to living out their future years together in wedded bliss.