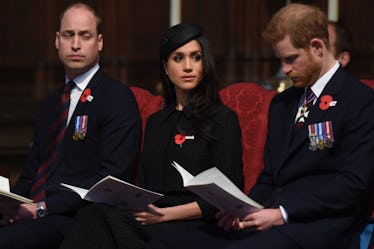 The May 19 Royal Wedding Date Actually Breaks Tradition & Here's Why
WPA Pool/Getty Images Entertainment/Getty Images
The countdown has truly begun. The wedding of Meghan Markle and Prince Harry is just two weeks away, and the anticipation of royal fans is palpable. Not surprisingly, a royal wedding has some serious protocol and tradition attached to pretty much every aspect of its planning, from the color of Markle's dress to the amount of cakes they have to have (two, BTW.) So, why is the royal wedding on May 19? Might this date hold some serious, centuries-old significance?
Well, the date itself is not, in fact, particularly relevant. However, it does break tradition, in that it is on a weekend. Although it is not a hard and fast rule, everyone else in Harry's immediate family did weekday weddings. Wills and Kate were wed on Friday April 29, 2011; his mother and father, Princess Diana and Prince Charles were wed on Wednesday July 29, 1981; and Queen Elizabeth II and Prince Philip tied the not on Thursday, November 20, 1947.
But this is a modern era, my friends. The thought behind this royal schedule change actually has to do with the British public. The wedding was not announced as a bank holiday (the British way of saying everyone gets a day off), according to the Independent, so celebrating on a Saturday makes it possible for more of the public to witness the big day and take part in the joy.
And oh, there will be joy.
As for the proceedings, two will be officially hitched at noon on the 19th, at St George's Chapel at the Windsor Palace Grounds.
After their official union, Harry and Meghan will get into a carriage on the palace grounds toward their reception. The carriage features an open hood, which was indeed planned with the public in mind.
This way, the crowds of people who gather to support their wedding will catch their travels and can "be part of the atmosphere" of the wedding day as Kensington Palace tweeted. The procession through the grounds will take Markle and Prince Harry about 25 minutes.
And as for who got one of those invites from Queen Elizabeth II herself? A whopping 600 people got chosen to attend the ceremony and reception, but only 200 lucky friends and family got invited to the royal after party. And no, that after party is not going to be filled with heads of state and diplomats, either. Not even Barak Obama got an invite.
Those who got on the exclusive list have to have a direct connection to the bride and groom. As in, real live friends. Since Harry is not next in line for the throne, he gets a little more leeway in this regard. These things have their advantages, no?
There has also been speculation that a Spice Girl or two might be performing at the wedding.
Furthermore, just today it was announced that Markle's parents, who are separated, will be joining and participating in the wedding ceremony, too. Markle's father will indeed be walking her down the aisle, and her mother will be traveling with her from her special night-before-the-wedding hotel to witness the ceremony at the chapel. And yeah, you better believe that Prince William is going to be Harry's best man.
Sure, it's all pretty darn old school, but this is the British Royal family after all. Oh yeah, and get out your tissues, because it was also announced in that same press release that the family of Harry's mum, the late and beloved Princess Diana, will be joining in the celebration. Her older sister, Lady Jane Fellowes, will be doing a reading at the ceremony. Will it move the crowd to sobs? Probably. I don't know about you, but I've got to go start planning my May 19 wedding watching tea party. Congrats to Meghan and Harry.