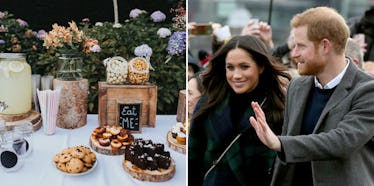 These Royal Wedding Party Ideas Will Have You & Your Girl Crew Feeling Regal
Here comes the bride. On May 19, Meghan Markle will walk down the aisle and marry Prince Harry, in a magical moment that I'm ready to wake up early for. By now, the invitations have been sent out, and some of us are only a little bit bitter that we didn't get one in the mail. But, we're saving the date for when the royal couple-to-be says, "I do" anyway, and making some plans of our own. If you're tuning into the big day, one of these royal wedding party ideas will surely make your celebration much more of a fairy tale.
Break out the bottle of champagne and call up your besties — it's bound to be a morning to remember. You've been daydreaming for awhile now about your own happily ever after, but you're excited to live vicariously through Meghan Markle. You might have booked a trip to one of those dreamy castles or palaces around the world for the summer, so that you can really feel like royalty. Hopefully your crown comes along the way.
You want your royal wedding party to go off without a hitch, from breaking out tiny British flags to decorating cupcakes with red and blue frosting. These seven ideas will make your party perfect, so you'll have the most magical royal wedding day.