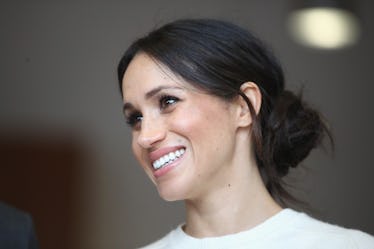 We Finally Know More About Meghan Markle's Wedding Dress & It Sounds Gorgeous
Chris Jackson/Getty Images Entertainment/Getty Images
Hear ye, hear ye! The royal wedding is just a few short months away, and new details are coming out left and right about what we can expect. Now, there are even more details about Meghan Markle's wedding dress and I AM SCREAMING because it all sounds so, so lovely.
According to Entertainment Tonight's royal expert Katie Nicholl, Meghan won't be dishing out any information on the designer she chose for her wedding dress. "I expect that Meghan will go to great lengths to keep her wedding dress designer a secret until the moment that she emerges from the bridal car," Nicholl said, adding that Markle is no stranger to keeping secrets:
Let's be honest, this is a girl who knows how to keep a secret. She and Harry kept their romance clandestine for months, so she knows how to stay tight-lipped… There's going to be so much attention on the dress. She's like every other bride in that respect, she wants to keep it a secret up until the last minute.
I can totally understand that. Sure, you may want a few people to see you in your wedding gown before the big day, but for the most part, you want that thing to be a total surprise to all of your guests (and, in Markle's case, the entire world).
So to anyone on the inside of Markle's circle who may know what her dress looks like: ZIP IT.
Nicholl also revealed that Markle understands how important of an occasion this is, and so her dress has to fit into the aesthetic of a royal wedding. She said:
I think when it comes to her wedding dress, she knows that this is a very, very important dress ... It's got to fit for the occasion, it's got to suit the regal historical backdrop that is Windsor Castle.
If you're thinking that any dress would fit nicely, just a reminder, this is what Windsor Castle looks like:
So, yeah. *Kind of* important for the dress to reflect the elegance of this gorgeous space.
There are some clues to what the dress might look like, though. "I'm told that she wants something with lace, that she wants something with sleeves," Nicholl said. Markle will have the sometimes-unpredictable weather of England in mind, but Nicholl said that we will be "pleasantly surprised for Meghan the 'rule breaker' when it comes to this dress. I think it's gonna tick all the right boxes: traditional, elegant, sophisticated, memorable, and fitting."
OMG is right, Meghan.
As far as a wedding dress designer, as I said before, Markle is keeping her lips zipped, but there is one designer that people have been talking about. "There's a lot of speculation that she might be going for Stewart Parvin, who is one of the queen's favorite couturiers ... It would be fabulous for her to fly the flag for British fashion, but we will have to wait and see. And I think we'll probably have to wait until the day," said Nicholl.
And, although the estimated cost of the royal wedding is absolutely bonkers, Nicholl thinks that Markle will be a bit more frugal when it comes to the cost of her gown, saying that "Meghan is very sensible" and that she "understands what the perception will be of this gown," so it's unlikely that she'll spend a lavish amount.
I mean, if it were me, I'd probably choose five different dresses solely because I could, but I guess that's one of the (many) reasons why I'm not marrying Prince Harry.
Markle spoke to Glamour back in early 2016 before she met her literal Prince Charming and opened up about what her ideal bridal style would be:
I have the luxury of wearing beautiful pieces of clothing every day for work, so my personal style—wedding or not—is very pared down and relaxed. Classic and simple is the name of the game, perhaps with a modern twist. I personally prefer wedding dresses that are whimsical or subtly romantic. Delphine Manivet and Christos Costarellos are faves of mine for their uniqueness and beauty. And I will always be a fan of Ellie Saab. J. Mendel is spectacular as well, especially for more structural designs.
This was, of course, before she knew she'd be having a royal wedding, so I think that her bridal style may have changed because now she will basically be a princess and has to plan accordingly.
Regardless, we know that Meghan Markle is going to make an absolutely gorgeous bride no matter what she ends up wearing. And Meghan, if you need another set of eyes during your gown appointments, just let me know. I can try to clear my schedule for you.