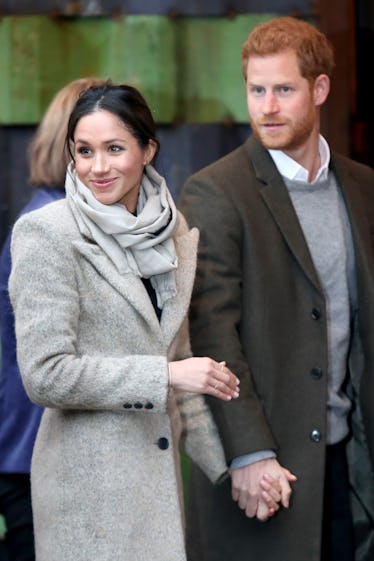 The Cost Of Prince Harry & Meghan Markle's Wedding Will Actually Blow Your Mind
Chris Jackson/Getty Images Entertainment/Getty Images
Weddings are expensive. Like, deplete-your-savings-account, take on a second job, and sell furniture you don't *really* need expensive. But anything for love, amirite? And that's just your average wedding, so when it comes to royal weddings, the price tag is juuust a bit higher. In case you didn't know, there's a royal wedding coming up in just a few short months, and, while we're looking forward to all of the day-of details, many people are wondering what exactly the price tag is going to look like. Well, do I have news for you. The estimated cost of Prince Harry and Meghan Markle's wedding is steep, y'all. So steep that you could stuff the average budget inside the royal wedding budget about 100 times, and it still wouldn't even measure up. It shouldn't really come as a surprise (they are the royal family, after all), but after hearing the number, it's hard for your jaw not to fall to the floor.
According to the wedding website Bridebook, Prince Harry and Meghan Markle's wedding day will cost them around $2,758,019.
Yes, you read that right.
Millions of dollars for what is essentially 24 hours, and are you feeling faint? Because I'm feeling faint.
Keep in mind though: An average wedding has anywhere from 100-200 guests, and Prince Harry and Meghan Markle's day will have around 800 guests at the ceremony, 600 guests at a private reception, and more than 2,000 members of the public at their post-ceremony celebrations (openly admitting to how jealous I am of those people).
That's a lot of entertainment, a lot of food and a lot of alcohol, which equals a massive amount of dolla dolla bills, friends.
And you will probably need a minute before you see the breakdown of vendor costs, because they are actually mind-blowing. These are some Scrooge Mcduck swimming in money numbers, people, and it will make you question why you weren't born (or married) into the royal family.
Here are the estimated cost for just a ~few~ vendors:
Flowers: $155,000
Photography and videography: $24,000
Music: $420,000
The wedding dress: $420,000
Trumpets: $127,000
OK, so I get spending a pretty penny on someone to capture your wedding day. I can appreciate wanting to deck your entire wedding with floor-to-ceiling florals. But over $100,000 on trumpets? TRUMPETS?
I cannot compute this level of luxe.
My sentiments exactly, Elmo.
The one thing that I'm totally on board with though is the estimated cost of Markle's wedding gown. Markle spoke to Glamour back in 2016 about what she would look for in a wedding dress when the time came for her to choose one. She said,
I have the luxury of wearing beautiful pieces of clothing every day for work, so my personal style—wedding or not—is very pared down and relaxed. Classic and simple is the name of the game, perhaps with a modern twist. I personally prefer wedding dresses that are whimsical or subtly romantic. Delphine Manivet and Christos Costarellos are faves of mine for their uniqueness and beauty. And I will always be a fan of Ellie Saab. J. Mendel is spectacular as well, especially for more structural designs.
Markle doesn't need a half-a-million dollar dress to look like a million bucks on her wedding day, but you do you, girl.
And don't worry, the whole "bride's family footing the bill" is not a tradition that the royal family goes by — Kensington Palace will be paying for the entire wedding (phew).
So you know what, Meghan and Harry? Go for the good china. Splurge on the fancy linens. Add a few more trumpet players to your day. Why the hell not.
We seriously can't wait to see how it all comes together.