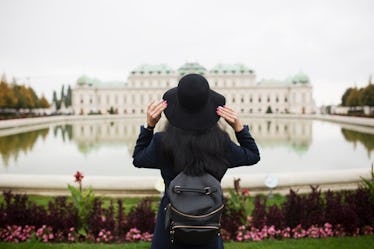 The Dreamiest Castles & Palaces To Visit Will Give You Major Princess Vibes
Jovana Rikalo/Stocksy
So many of us are looking for that happily ever after. All of those fairy tales we read growing up have given us some serious expectations when it comes to life. Your first true love might have been Prince Charming (quickly followed by Prince Eric from The Little Mermaid, because let's be honest, he's so much better), and we all wanted an animal sidekick or glass slipper to start our own story. Traveling gives us a chance to totally escape reality as we know it. These palaces and castles to visit around the world will not only give you some serious princess vibes, but they'll let you live out all your wildest dreams, too.
Living life like a princess in one of those fairy tales sounds so ideal. Between the crowns, beautiful gowns, attending balls, and being called "royalty," it seems like a dream. I think we all sort of wish Genovia from The Princess Diaries was real. Personally, I would love to live in a land ruled by Julie Andrews, where mattress surfing and waving your hand just right was something that would happen on the reg. We've learned a thing or two from all of our favorite princess movies, and know that leading a country comes with the package deal.
If you have a bit of the travel bug, these eight castles will elevate your bucket list, and will be a dose of magic while you're wandering the world. Can I get a "yas queen?"