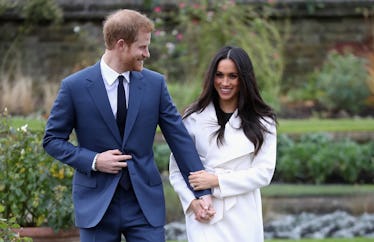 20 Instagram Captions For Royal Wedding Day Parties, Because Love Is In The Air
Chris Jackson/Getty Images Entertainment/Getty Images
It's almost May, which means that the royal wedding of Prince Harry and Meghan Markle is right around the corner, taking place on Saturday, May 19. This couple has been in the spotlight since the day they got engaged, and I can't wait for them to say, "I do." If you've been following the royal family closely, then you're probably hosting a party when the special day comes around. I've gathered up some Instagram captions for royal wedding day parties, so that your feed fits right in with the celebratory vibes. It'll almost be like you're there, too.
The past few months have been all about planning. There was picking out the perfect flowers, and finding a well-known photographer who will capture all the beauty of their day. The invitations were sent out, and I wasn't at all bitter when I inevitably didn't get one. Maybe it just got lost in the mail? I'd hop on a plane in a second if it meant living out all of my dreams fromThe Princess Diaries. Instead, I'll be on my couch and wondering when Julie Andrews (well, Queen Clarisse Renaldi) will show up with an unexpected crown — and some crumpets.
On the morning of the royal wedding, you may be planning on getting your crew together to watch the event coverage. You'll have napkins with the British flag on them, and maybe even order in some fish and chips. The second you see Meghan Markle and Prince Harry, you'll probably start crying tears of joy. These 20 Instagram captions will have you covered when you're just too deep in tissues, but still want to put a picture up and show off your royal wedding day party.
1. "She said yes. They said 'I do.'" — Unknown
2. "Only do what your heart tells you." — Princess Diana
3. "The forever to his always." — Unknown
4. "It's happening!" — Bridesmaids
5. "When you realize you want to spend the rest of your life with somebody, you want the rest of your life to start as soon as possible." — When Harry Met Sally
6. "Happily ever after." — Unknown
7. "Thanks for including us in your big day." — Unknown
8. "The best thing to hold onto in life is each other." — Audrey Hepburn
9. "No one is too old for fairytales." — Unknown
10. "You'll be the prince and I'll be the princess. It's a love story, baby just say yes." — Taylor Swift, "Love Story"
11. "A queen is never late. Everyone else is simply early." —The Princess Diaries
12. "When someone else's happiness is your happiness, that is love." — Lana Del Rey, "Is This Happiness"
13. "It's been an emotional day. Even the cake is in tiers." — Unknown
14. "All you need is love." — The Beatles, "Love Is All You Need"
15. "Life is a party, dress like it." — Audrey Hepburn
16. "Today was a fairytale." —Taylor Swift, "Today Was A Fairytale"
17. "You don't marry someone you can live with, you marry the person who you cannot live without." — Aleatha Romig
18. "Has anyone seen my glass slipper?" — Unknown
19. "Love recognizes no barriers. It jumps hurdles, leaps fences, penetrates walls to arrive at its destination full of hope." —Maya Angelou
20. "There is a princess inside all of us." — Unknown
We're so sweet on the royal couple to be, and celebrating with our besties will surely make the day even more special. Seeing the beautiful wedding couture will make you want to jet set to some of the dreamiest palaces and castles around the world for your very own princess vibes. But, for now, baking some scones and toasting a glass of champagne to Meghan Markle and Prince Harry will do. Just be sure to post about your royal wedding party on the 'Gram to celebrate.